SOLIDROOTS LAUNCHES, MIND THE GAP LIVE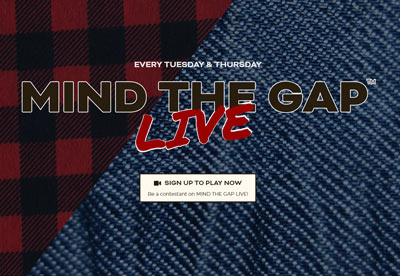 A VIRTUAL VERSION OF THE PHYSICAL GAME THAT BRINGS FOUR GENERATIONS TOGETHER
NEW YORK (MAY 7, 2020) – SolidRoots, the innovative game company that creates products inspired by their own traditions, continues to bring people together amidst the global pandemic. SolidRoots recently announced Mind The Gap LIVE, which transforms their hit pop culture trivia game, Mind The Gap, into a virtual experience. Perfect for bringing the whole family together during these unusual times. Mind The Gap LIVE is held on Facebook Live every Tuesday and Thursday at 8:00 PM EST via Facebook Live. 
If you are not familiar, the original SolidRoots' board game, Mind The Gap, unites all generations, from Boomers to Zoomers, by combining pop culture trivia questions with elements of charades. The game has been extremely successful for SolidRoots and has created quite the buzz amongst both toy industry insiders and players from all generations who have gotten to play the game. The goal of Mind The Gap LIVE is to allow family and friends to stay connected during this time and bring some joy to those who play.
Mind The Gap LIVE is hosted by Steve Starobinsky of Kid@Heart, who replicates the traditional product and at the same time challenges multi-generational teams to answer questions on their generations' pop culture, music, TV, film, slang, and headlines. Teams of four compete against each other and face off in challenges such as acting out famous scenes, humming well-known tunes and theme songs, or dancing through the decades. (Anyone remember the theme song to Growing Pains?)
"We know that it is important to be connected now more than ever," explained Jen Armstrong, Founder of SolidRoots. "What started as a virtual game night with our family and friends has now transformed into a fun, competitive experience for people all over the country. While traditional trivia may seem uninteresting to Millennials and the concept of turning a board game into a web show may be daunting to Boomers, Mind The Gap and Mind The Gap LIVE brings the generations together in a way they can all enjoy.
The virtual game night streams on Facebook Live every Tuesday and Thursday at 8:00 PM EST. The show begins with each team of family and friends being introduced followed by a relatable question to create a connection amongst the other teams, who are usually strangers. Next, each team has 45 seconds to answer four questions from each of the generations. If they answer all four correctly, they unlock a bonus fifth question that can be from any generation. Question rounds are divided by subcategories mirroring the board game and teams collect points for their correct answers. 
"What this pandemic has taught us is that while social distancing is vital right now, so is unity," continued Armstrong. "Our live show is growing in popularity because it connects people who are all experiencing the same thing, which, by nature is isolating. There is so much value in human connection and Mind The Gap Live is an outlet for people to connect and create positive memories during this time." 
Host and emerging trends blogger, Steve Starobinsky, along with his British sidekick, Cousin Edi,  keeps teams and viewers engaged with his fast-paced questions and humorous commentary. Questions range from, "What famous phrase was used when a user dialed-up AOL?," to "Name three of the five kids on the Cosby Show," and "Who famously interrupted Taylor Swift's acceptance speech at the VMAs?" All episodes of Mind The Gap LIVE are available on Facebook and YouTube. Additionally, teams of four can sign up to play on the live show by filling out an application at www.mindthegapgame.com 
Available for pre-order now at www.solidroots.com, Mind The Gap is launching on Amazon and other retailers this June. For more information on Mind The Gap and SolidRoots, visit www.solidroots.com. Also, join the SolidRoots family and start creating connections by following @makesolidroots on Facebook and Instagram. 
About SolidRoots: 
SolidRoots' mission is to bring people together through unique content, engaging products, and memorable experiences. The family-owned company creates games inspired by their own family traditions, with the intent for your friends to become your family and your family to become your friends. While basic games always have an inevitable outcome: someone wins, everyone else loses, SolidRoots, on the other hand, cares more about the memories made during the games. Therefore, the company creates high-quality games based on a foundation of "solid roots", meaning a connection to something deep and meaningful.