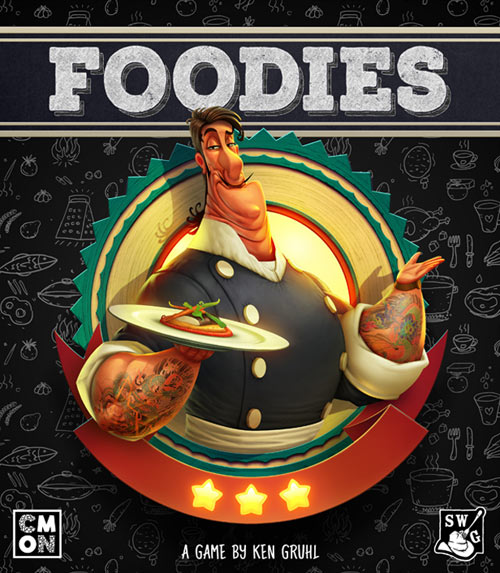 Foodies is a fun new game by Ken Gruhl, brought to us by CMON and Spaghetti Western Games.  We had the pleasure of testing it out at Gen Con and found it to be a great game to add to our collection.  It's for 2-5 players who play as rival food court managers serving a wide variety of international dishes.  The winner is the manager who proves to be the most popular amongst the discriminating foodies who visit the courts. For those of you who like to do game nights with lots of food, Foodies will be a perfect fit. This is a great light-hearted family-and-friends game that we found fun to play whether you win or lose.
What's in the box?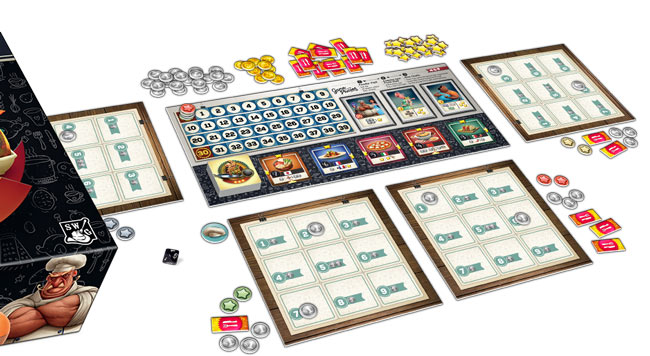 The box contains:
5 Food Court boards, for setting up your unique mix of 9 food stalls
100 food stall cards, representing dishes from 10 cuisine cultures
2 small decks of Culture cards and Special Chef cards
A 2-sided Market Board to track points and lay out available cards
$1 and $3 coin tokens
Popularity (star) tokens and Flyer tokens
Player markers, starter token and one 10-sided die
8-page Rules booklet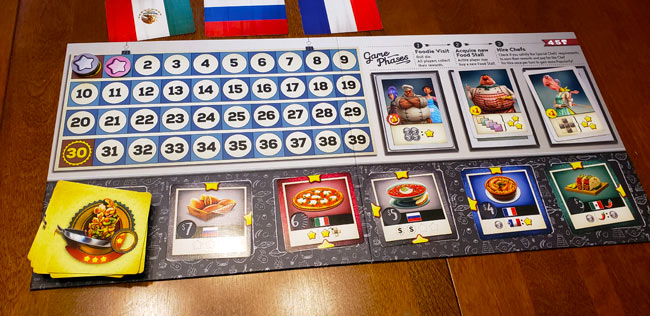 How do you play Foodies?
Foodies is played with 2 to 5 players.  Each player's turn consists of 3 phases:
…a dice roll that represents a visit to one of the 9 spaces in each player's food court. This visit can result in getting coins and/or popularity stars and/or points for scoring.  Each cuisine culture has a unique effect that may come into play.  There's a feature that allows a player to use a Flyer Token to score out on an adjacent square if they do not like the dice number.  Note that every player gets to act on the dice roll, based on what they have in that specifically-numbered space.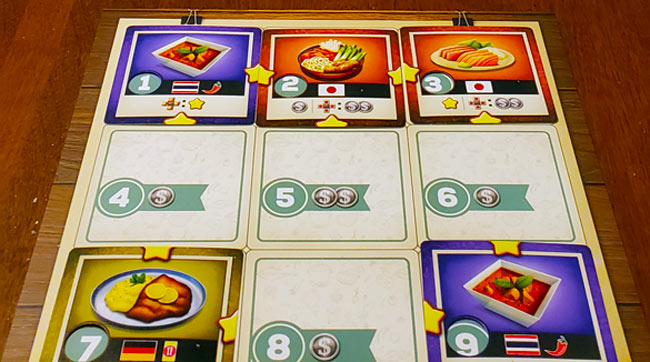 …a purchase of a new food stall, from a set of 5 food stall cards that continually updates as stalls are purchased. Here's where you use the coins that you've been collecting.  You must decide which food stall you can afford and is best for your court.  There's also some strategy around how to best place the stall in the food court.

…the potential hire of a special chef, which leads to more popularity points for scoring.

Play ends after the completion of the round where a player passes 20 points (for 2-3 player games) or 30 points (for 4-5 player games).  The win goes to the player with the most points – and it might not be the first player to pass the threshold.  The game plays in a relatively quick 20-30 minutes.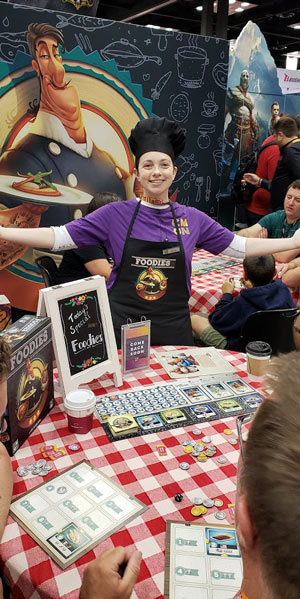 Likes and Dislikes for Foodies:
Likes:
Easy to Teach / Easy to Learn– This is a relatively easy game to learn and to teach to others without an overload of pieces. It is suggested for players age 14 and up, but we could see younger players enjoying this game as well. 
Good Rule-book– The rule-book is easy to read and has plenty of explanatory pictures, all of which are artfully done.  
Quick Engaging Play– The game plays in 30 minutes or less, and the downtime for players waiting for their turn is not an issue since a key part of every player's turn is the foodie visit where everyone is rewarded. 
10-sided Die – Only one die is used, which means every square on the food court card is equally likely to be visited. One twist is that if a zero is rolled, the active player gets to decide what the number will be. 
Different Every Time – Each game can be unique since we play with only 5 of the possible 10 cuisines and only 2 of the possible 5 special chefs.
Strategy– The game is simple, but there's some element of strategy as you choose the best food stalls and where to best place them.  Using knowledge of the special effect each culture can employ, you can formulate a high-level approach to filling your food court over multiple turns.  This is of course impacted by how the cards were shuffled and other players' choices, and thus requires continual adaptation. 
Great Box Design– It's a good-looking box with fun artwork.  All the components have their rightful place in the box. 
Dislikes:
Scoring Rules Sometimes Unclear – While the rule-book was well-done, the details could be a bit clearer on the scoring of some specific cuisine cards.  We did an online search and found others had similar questions.
Possible Coin Shortage with 5 players – This is based on a small sample of gameplay, but for some combinations of cuisine cultures, coins could be a bit tight. It would be easy to substitute other items for the tokens. 
Cuisine Cultures – This game uses flags to represent the cuisine cultures and they have missed a teaching moment by not indicating what nations are represented by the flags. We had to look up a couple, and we assume most players could not co-host 'Fun With Flags' with Sheldon.
Final Thoughts
All in all, the positives far outweigh the minor complaints.  We find Foodies to be an excellent game, an easy one to recommend.  It's great for families and friends.  We especially like it as an alternative to cut-throat competitive games which can require a lot more time and complexity.  Any game night would be enhanced with this game in the mix.