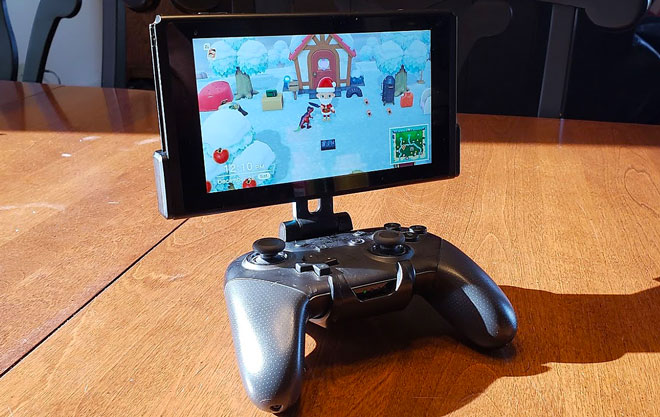 The Fixture S1 is a new clip-mount that allows you to mount your Nintendo Switch over your Nintendo Pro Controller.  And to be honest, it does this quite well.
I was a bit skeptical at first as to how this would work, and how this would feel, but it actually feels pretty awesome.  It's not wobbly or wonky.  And I think it can serve its purpose for gamers in many different ways.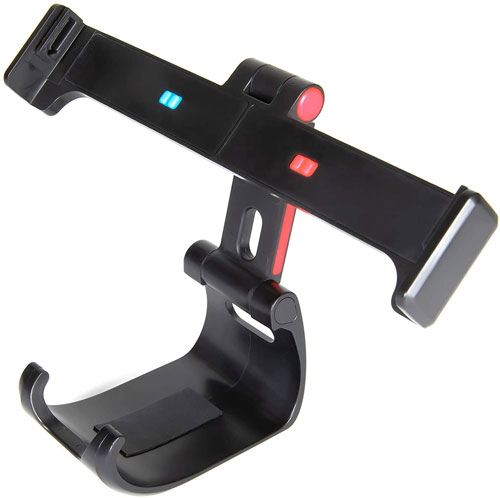 First off, it's pretty darn easy to assemble.  You simply slide your Nintendo Switch in the top, and snap your Pro Controller into the curvy part of the bottom.  It literally takes less than a minute to assemble.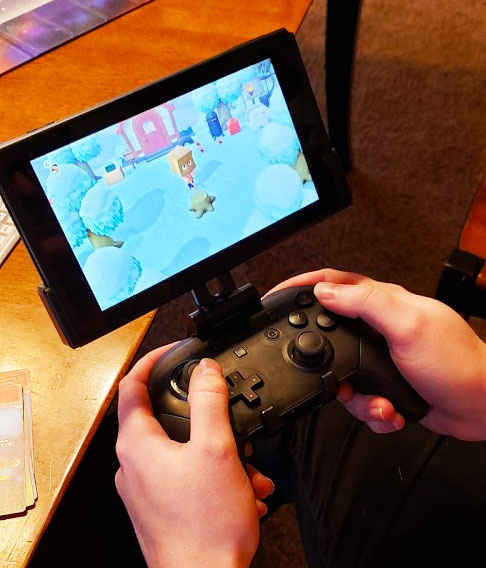 Let me just get straight to the Pros and Cons:
Pros
No Drift! – My 29-year-old daughter loves Animal Crossing, and she has gone through 3 left Joy-Cons that drift.  Sure, Pro Controllers can drift … all controllers can drift … but the Joy-Cons on the Switch are notorious for drift problems.  Nintendo is facing class action lawsuits over the problem, and offers free repairs for your Joy-Cons, but you have to mail them in.  The S1 Clip can be a nice bridge for gamers who are without Joy-Cons for a while. 
Adjustability – The S1 is double hinged, so you can adjust it in two different places and get your viewing angle just right.  And your wrist might be in a more natural position using the S1.  The Nintendo Joy-Cons require you to cock your wrists back a bit to see the screen.  With the S1 Clip, your wrists can be in a more relaxed position.  
Great for Airplanes! – After my daughter used the S1 for Animal Crossing, her husband stole it from me for his work trip.  He had to Ottawa for work, and thought this would take up less room on the airplane.  He said it was great.  It's narrower as a package, and you can rest your hands on the fold down tray, and rotate the screen perfectly.  
Smash Bros on the Go! – This is fantastic for Smash Bros!  The Pro controller is much nicer to use for Smash than the Joy-Cons, and this makes Smash a great tight little package.  
Tabletop Mode – You don't actually need to mount your controller into the S1 Clip to use this on the go.  If you are away from home (like on vacation), and two people want to play at once, the device will actually hold the screen, while it rests on the table.  See picture below.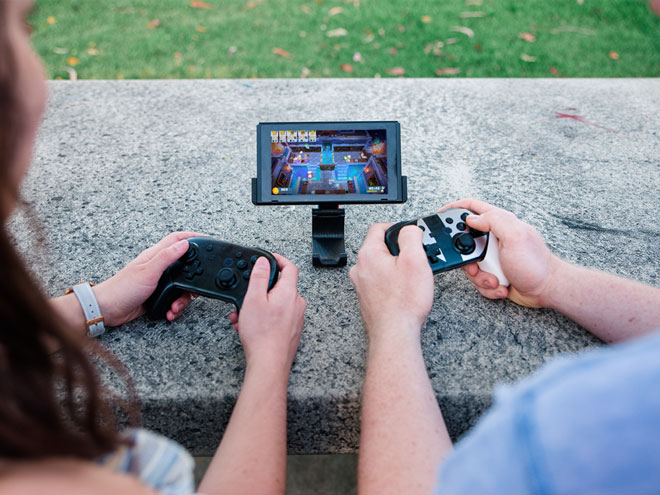 Cons
It's a little heavy.  The Switch with it's Joy-Cons weighs in at 0.88 lbs.  The S1 with a Pro Controller attached weighs in at 1.39 lbs.  It's not as noticeable if you can rest your hands on something, but it can get a little heavy after a while if you can't.  I can see this being a bit of a pain if you play a lot of games in bed at night, and are trying to hold this above your chest.  (You can always put a pillow on your chest, and rest your hands on the pillow, and adjust the hinges though.  😉
Center of Gravity – I think part of the reason this might feel heavier is that the center of gravity is different.  With the regular Joy-Cons, the center of gravity is between your hands.  With the S1, the center of gravity for the Switch screen is more above your hands.  It's not horrible, it's just different.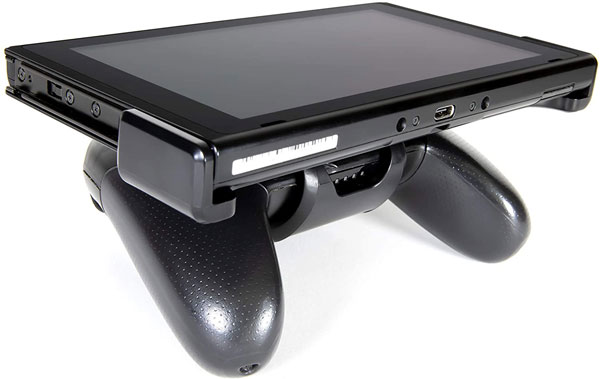 Final Thoughts
This retails for $34.99.  That feels just about right for a Nintendo accessory like this.  If you are shopping for a peripheral that allows you to play the Switch and a Pro Controller together in a nice compact little package, then this is pretty sweet.  I believe Fixture Gaming will also be offering a carrying/travel case soon as well.  You can find this at Amazon.com where it has 4.7 stars out of 5 at the time of this review.