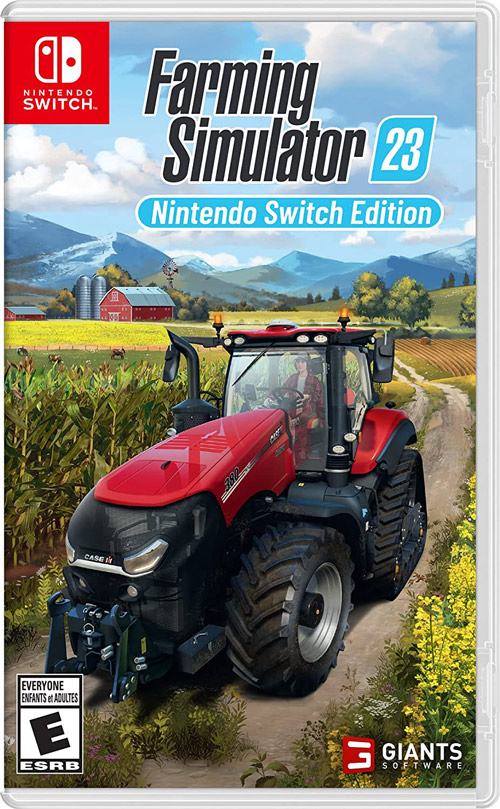 The newest version of Farming Simulator – Farming Simulator 23 (FS23) – is now available for the Nintendo Switch.  FS23 is also available for Mobile Devices, but I think the mobile version locks some of the toys behind a pay wall.  This review pertains to the Switch version, as I have not tried the Mobile version.  
I was born and live in Chicago.  My wife's family has a large farm in the rolling hills of western Iowa.  Their family grows soybeans and feed corn.  They also have two large hog confinement systems, a couple dozen head of cattle, and a chicken coop.  I know a little bit about farm life, but I still have a lot to learn about farm machinery. 
Here are some fun photos from the in-laws' family farm: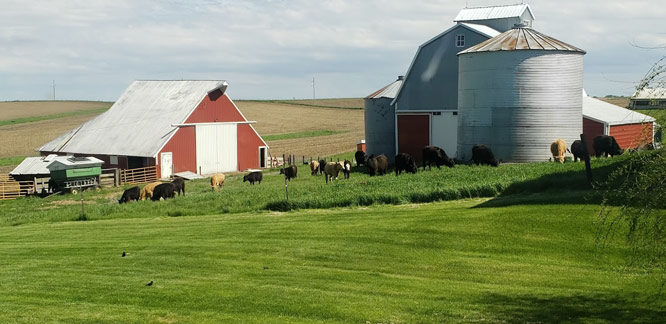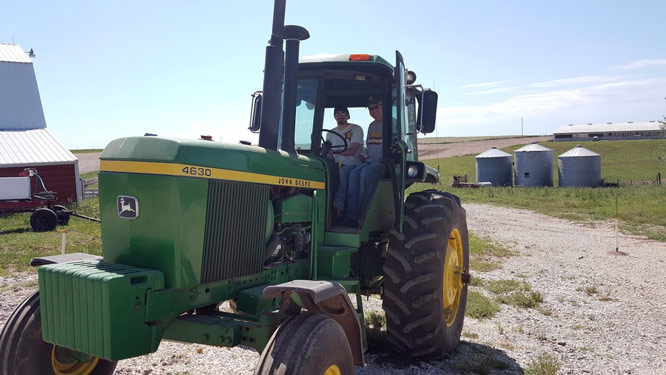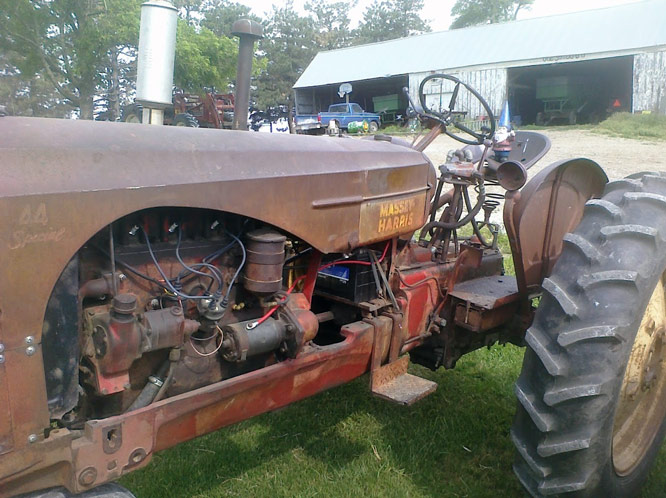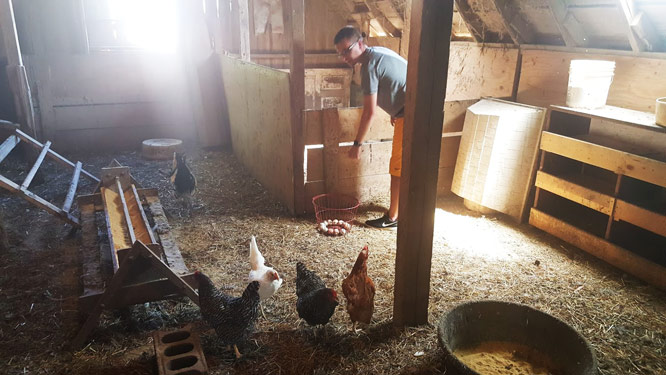 I got my hands on a copy of Farming Simulator 23 for the Switch, and have been playing it for about a week now.  I jotted together some notes for folks that might be thinking about purchasing this game.  
What is Farming Simulator 23?
Farming Simulator 23 is the little brother of Farming Simulator 22 (Xbox, PlayStation and PC).  FS23 is a somewhat stripped down version of its big brother.  
The basic idea of Farming Simulator 23 is to get a profitable farm up and running, and to keep expanding your operation.  You can start small and stay small, or you can have grand plans for a giant corporation with farming, processing, and final destination retail sales.  You can have a small chicken farm or run a large dairy business.  You can simply plant wheat and barley, or you could run a bakery, and partake in the profits of the finished baked goods.  This game is a little sandbox for your farming dreams.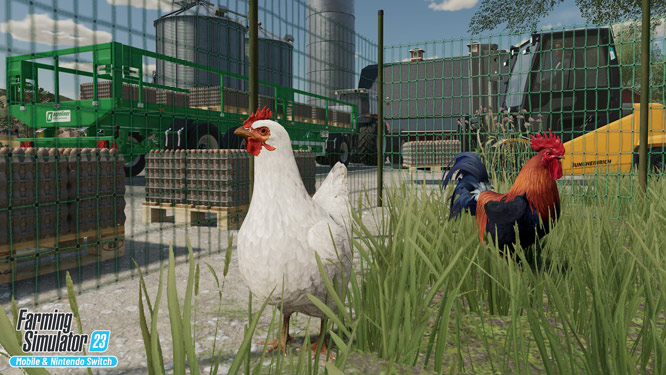 The machinery in Farming Simulator 23 includes a plethora of name brands from America and Europe including: Case IH, CLAAS, DEUTZ-FAHR, Fendt, John Deere, KRONE, Massey Ferguson, New Holland, Valtra & many others .  There are over 130 authentic machines and tools from these manufacturers on the Switch.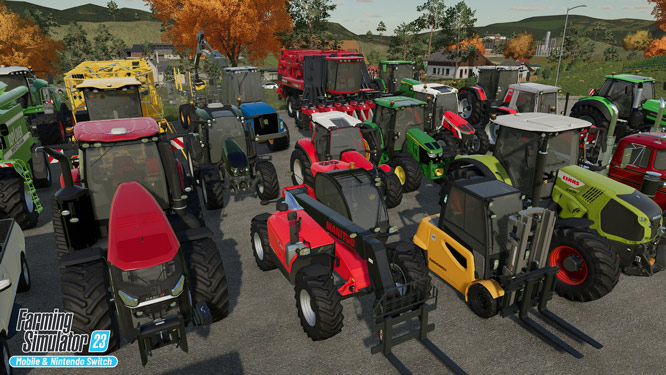 Gameplay 
There are two starting maps for players to enjoy on FS23.  A North American farm map, and a European farm map.  The American map features a very simple tutorial that shows you rudimentary farming simulator basics:
How to drive a tractor
How to attach implements to your tractors and use them
How to drive a harvester and harvest fields
How to plant seeds
How to fill wagons
How to deliver harvested goods to a buyer in town
and How to sleep to start a new day/month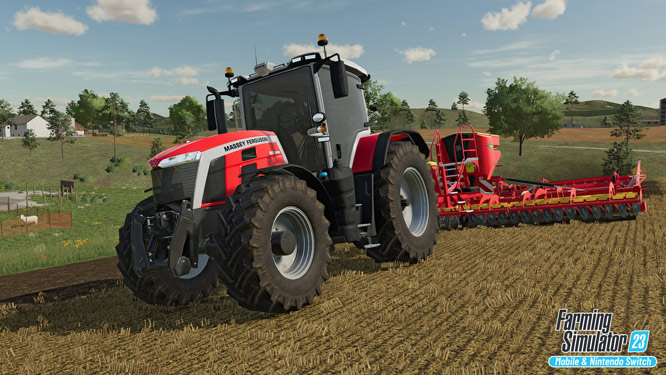 The tutorial is kind of short in the grand scheme of things.  I wish the tutorial was more detailed.  There are a lot of things you can do in this game, but you have to find these things out for yourself. Thankfully, there are many helpful YouTube videos online.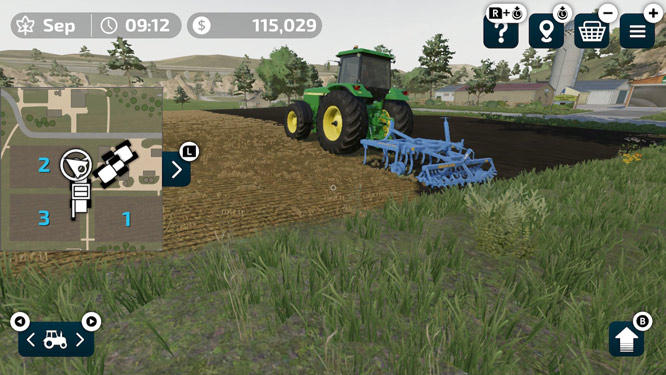 You get a lot of stuff to start your American farm.  You get 3 plots of land, some silos, some storage tanks, and a farmhouse.  You will start with 3 small tractors, a combine, a cultivator, a seeder and a wagon.  You will also have 3 chickens, and $100,000 to spend. 
It's time for you to decide what direction you want take your farm.  You decide what plants you grow.  You decide what implements to buy.  You decide if you want to sell any starting equipment.  You decide if you to invest in plows, fertilizers, herbicides, etc.  You decide if you want get buy some production chains.  You decide if you want to start a dairy farm and start spreading the manure on your fields.  
Equipment
There were over 400 pieces of equipment to buy in Farming Simulator 22.  This scaled down version (Farming Simulator 23) has 130 pieces of name brand equipment.  Here is a glimpse at machinery you can purchase for your farm operations: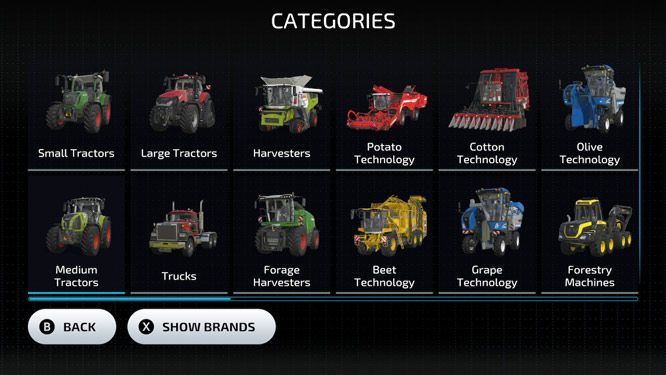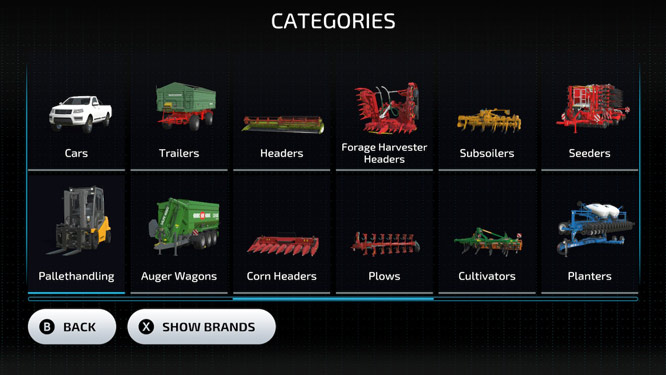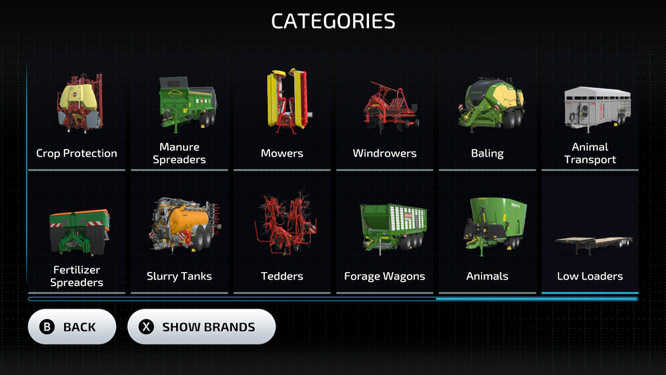 When you click on a category, like "Small Tractors", you will see what you can purchase.  You will see the cost, horsepower and more. Equipment is certainly not cheap!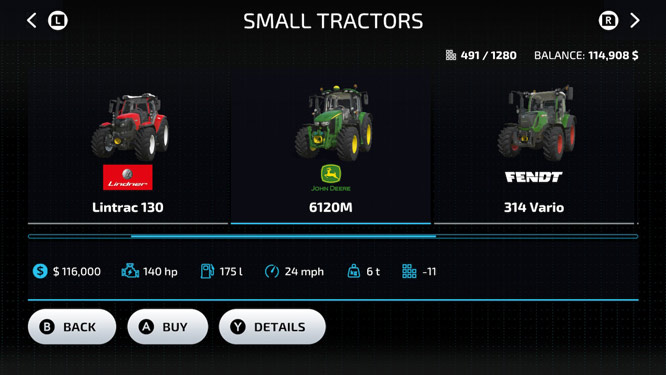 Crops
There are 14 types of crops you can grow in FS23: Wheat, Barley, Canola, Oats, Corn, Sunflowers, Soybeans, Potatoes, Sugar Beets, Sorghum, Grapes, Olives, Grass and Oilseed Radish.  
At first, you don't have the machinery that can plant and harvest all 14 of these crops.  So if you really want to grow something like grapes, you will have to work your way from the bottom up, and earn some money to buy those great new toys!
Animals
Animals in Farming Simulator 23 include: Chicken, Cows, Pigs, Horses, and Sheep.  You will start with 3 chickens.  Your hen house on your starting farm can hold up to 30 chickens.  You can buy 27 more chickens early in the game and get your egg production rolling to make a few bucks.  Eventually you can invest in the other livestock businesses if they suit your fancy.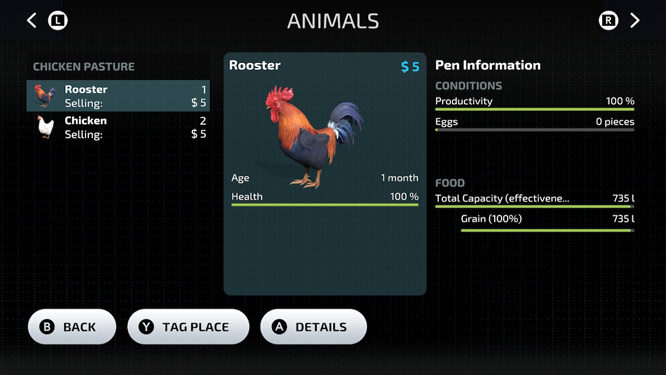 Productions
You can sell your produce to large buyers, or you can start your own production company to get in on the finished profits.  The businesses you can buy are: Bakery, Carpentry, Cereal, Dairy, Grain Mill, Grape Processing, Oil Mill, Spinnery, Sugar Mill, and a Tailor Shop.  
Why do this?  Well, let's say you want to get into the Food Oil business.  You can grown something like Sunflowers.  And then get in on the bottled Sunflower Oil profit instead of just selling your harvest to a buyer.  You might be able to double your income this way. 
Calendar and Time 
Every day you spend in game will count as one month.  This helps move your crops and production along and keeps things snappy.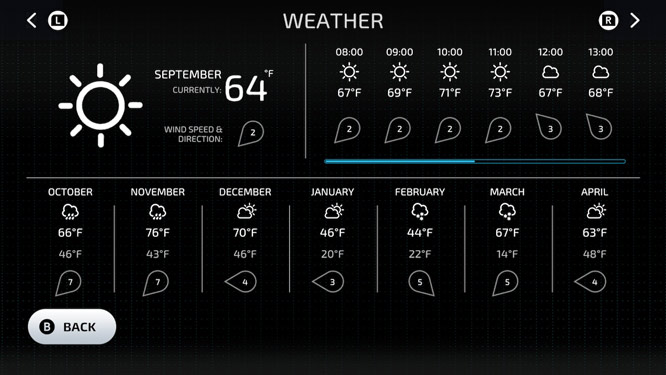 I think the default setting for real time in the game moves at around 30x, meaning that every 2 minutes you spend doing something in game, the in-game clock will move an hour.  This setting was way too fast for me to get things accomplished.  I set the in-game clock to real time at first so that I could learn the ropes, and buy the supplies I needed before darkness fell.  
Once you are all done with your daily chores, you can go to bed at your house at any time, and when you wake up, it will be the next month.  And your crops will have grown a lot in that month.  Weeds might have sprung up too.  😉
The Town Map and Your Fields
As I mentioned earlier, you will start with 3 small plots of land.  But you can buy every plot of land on the map.  Look at the map below.  The "+" indicates a plot of land you can buy.  These plots are expensive – ranging from $118,000 to about $900,000.  The game allows you to become a land baron and buy everything out there, just like Bill Gates.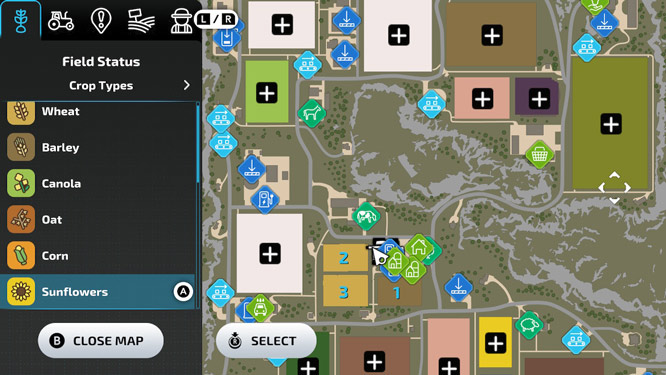 A Typical Morning for a Beginner in Farming Simulator 23
Every morning you wake up, you will walk out the front door of your house.  Then you might go over and check on your chickens.  You might be able to collect and deliver some eggs in town for some $$.  And your chickens might need some grain to eat.  
Then you might want to drive to all your fields and check conditions:
Are any of your fields ready for harvesting?  Then Harvest!  After harvesting, check the selling prices.  You can sell the harvest right away for fast cash, or put harvest in your silo as an investment for when prices might be better.  You might be able to feed your chickens from your yield as well.  
Do any of your fields need herbicide?  Either go organic, or buy and apply some weed killer.
Do any of your fields need fertilizing?  Then apply some fertilizer. 
If you have any production facilities, you may need to drive out there and see how they are doing.
Do you have enough money to buy the big shiny you have been eyeing?  Or a new acreage?  Or a new production facility?
Likes, Dislikes and Final Thoughts for Farming Simulator 23
Likes
The graphics are pretty good.  They are not PC/Xbox/PlayStation good, but they are honestly much better than I expected on the Switch.
Many things have been simplified from Farming Simulator 22.  Example: When you attach a heavy implement to the back of a tractor, you will automatically apply the proper weight to the front of the tractor.  In FS22, your tractor might tip backwards if you forget your front weight.  I personally love this change in FS23, but I bet some of you won't.  Some of the real world farming details like that are removed in this simplified version.  
No one is ganking me.  I love PVP games, but sometimes it's nice to get away from the old duck and cover PVP routine.  This is a peaceful and relaxing game to play.  I wake up every morning to my Rooster's "Cock-a-doodle-do", and it puts a smile on my face every time.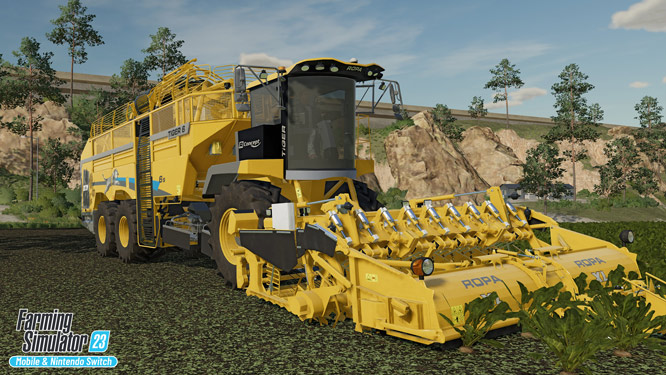 There are many different vehicles and implements you can purchase and use.  It is a huge day when you can afford and buy an exotic tractors and put it to use. 
You can do your jobs yourself, or hire AI workers to do the labor if you find driving the fields boring.  You will have to pay those workers from your funds, but the trade-off is usually worth it.
You can change many of the settings to make things easier on yourself.  You can set time in the game to pass like real time.  Or you can make time go by 2x, 3x, 4x, …. up to 120 times faster.  If you are new to Farming Simulator games, do yourself a favor and change this to real time for your first day!
You aren't shoehorned into running a certain type of farm.  Want to raise horses and sell them? Go for it.  Want to  grow sunflowers?  Go for it.  Want to make wine?  Go for it!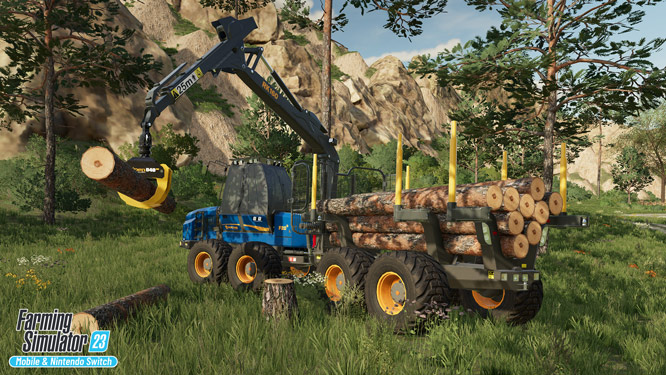 Dislikes
My main complaint is with the tutorial.  I had the same complaint with FS22.  The tutorial is too short, and I wish there were more tutorials.  There is so much to learn and very little hand-holding.  If you are an experienced Farming Simulator player, then you will already know all the tricks of the trade.  But new players will definitely need to watch some YouTube videos to learn all the intricacies about running a simulated farm in Farming Simulator 23.  There are no tutorials for buying equipment, or selling equipment, or buying production facilities, or planting grapes, etc.  You simply have to learn on the job.
I miss the "Contracts" from FS22.  In Farming Simulator 22, you could buy something like a fertilizer attachment for your tractor, and then have a side hustle of fertilizing other farmers' fields for them.  This is not a feature in FS23.  Contracts made it easier to offset the cost of expensive equipment.  
The AI farmers aren't all that great.  You can pay AI workers to finish jobs you have started – like fertilizing a field.  But they sometimes do a half-assed job.  I've had them tell me a tractor job is done, but when I inspect their work, a field it is only partially fertilized or weeded.  
The AI traffic is still annoying.  Cars pass you up instead of honking at you now, but you will still run into them quite often.  I had an accident at an intersection, hit a pole, and tipped my tractor over.  There is no tutorial for getting your tractor back on 4 wheels by the way –> Go to maps and reset your vehicle to your last save point.  You can turn off the traffic, but the town looks like "I am Legend" without any traffic.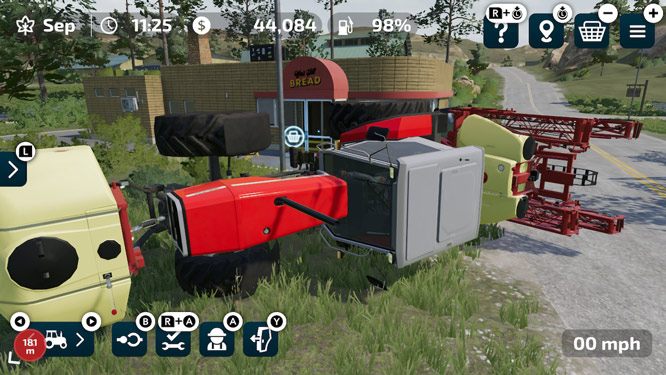 Final Thoughts on Farming Simulator 23
Once you get past the short tutorial, and watch a few YouTube videos, FS23 can be quite a fun game.  If you are looking for a fast-paced racing game, shooter, or RPG, then you should look elsewhere.  If you are looking for a satisfyingly beautiful and peaceful game that requires planning and puzzle solving, then look no further. 

I have read about folks running into glitches playing Farming Sim 23.  I haven't really had any technical troubles with gameplay.  The only bad things I noticed were AI farmers doing incomplete jobs.  You need to walk through every field after an AI farmer is done and see what you have to finish manually.  "If you want something done right, … "
For those coming from Farming Simulator 22 to Farming Simulator 23 there are going to be some major differences.  And depending what camp you are in, you may like them or you may not.  FS23 is simpler and easily portable.  FS22 looks better and has a lot more realistic gameplay and mechanics.   
If you are a city boy like me, you will definitely learn a whole lot about farming from Farming Simulator 23. I thought plows and cultivators did the same thing.  Nope!  😉
You can buy Farming Simulator the Nintendo eShop, or from places like Amazon.com. 
Tips and Tricks
I posted a Farming Simulator 23 Tips and Tricks page for beginners right here.