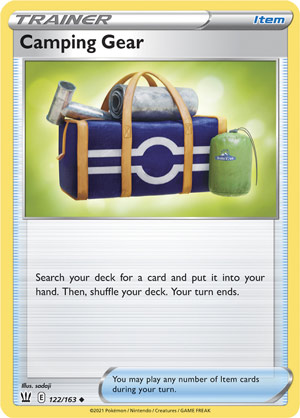 Camping Gear – Battle Styles
Date Reviewed:
March 27, 2021
Ratings Summary:
Standard: 2.50
Expanded: 2.00
Ratings are based on a 1 to 5 scale. 1 is horrible. 3 is average. 5 is great.
Reviews Below:
---


Otaku
7th-Place in our countdown is Camping Gear (SW – Battle Styles 122/163).  This Trainer-Item lets you search your deck for any one card and put it into your hand.  Afterward, you shuffle your deck and your turn ends.  This may remind you of Computer Search, originally a "normal Trainer" from Base Set and Base Set 2, with the same, amazing effect of grabbing any one card from your deck.  Instead of ending your turn, though, Computer Search just requires you discard two cards from your hand in order to use it.  It was then nerfed by being re-released as an Ace Spec in BW – Boundaries Crossed.  Everything else was the same as the original, but now if you used Computer Search, it would be the only Ace Spec you were allowed.  Even with this added restriction, Computer Search remained a great card, and was considered one of – it not the – best Ace Spec.
Camping Gear is nowhere near that good.  In fact, it is pretty bad!  Ending your turn is a massive cost.  Turn 1 (Player 1's first turn), there's usually no drawback to Camping Gear.  Turn 2 (Player 2's first turn), there's a decent chance you won't have an attack that is as good as fetching one card of your choice from your deck.  The catch is that you need to luck into it: there's no cost-effective, reliable way I know of to pull off a first turn Camping Gear.  If you run a full four count to improve your odds, there are a lot of dead cards later.  If you only run it as a single, there's no waste but your odds are terrible of getting Camping Gear when you need it.
What if you could search it out easily?  Well, how easily is "easily"?  Rotom (Shining Fates 034/072, SV038/SV122) is an 80 HP Basic with an Ability that activates when you Bench it from your hand, during your turn.  This Ability lets you add two Item cards with "Rotom" in their names, to your hand.  Which means you're a Quick Ball or Level Ball away from using this Turn 1 to access Rotom Bike.  Rotom Bike lets you draw until you have six cards in your hand, then your turn ends.  When we reviewed it, I thought it was decent, but it hasn't shown up in any recent, winning decks.  Maybe this combo is just taking a while to catch on since Rotom is in Shining Fates and not a mainstream set, and since tournaments aren't as frequent as they used to be.  Maybe Rotom Bike isn't quite good enough…
but I'm starting to think I just underestimated how "expensive" such a combo is.  So if we got some search that works with Camping Gear, it has to fall into the camp where it is "good" without being "better" with other targets.  There's also the issue that even with such a combo, your opponent might use Marnie to basically cancel out your Rotom Bike (or Camping Gear).  What about decks that rarely or never attack?  This might provide a solid use for Camping Gear.  Now the catch is you at most get four uses by running four copies.  Do you do that, or do you run something like Zacian V or Munchlax (SM – Unified Minds 173/236), with their reusable, turn-ending Abilities?  I'm not saying you cannot run both, just that it isn't a no-brainer.
Ratings
Standard: 1/5
Expanded: 1/5
Yeah, this card came nowhere close to making my list.  For once, I'm writing my article ahead of Vince, so maybe he'll finally be able to explain how wrong I am… and if I am wrong, then good!  Always better to find out a card I think is filler or bait actually has at least some (if not a lot!) of legitimate uses!  For now, though, Camping Gear has an amazing effect with a terrible cost, and they don't balance out.
---


Vince
Camping Gear is the 7th best card of Battle Styles. This is a item card that lets you search for a card and put it onto your hand. This card seems to be a powerful version of Computer Search, except that you don't have to discard 2 cards from your hand and it doesn't take up your Ace Spec slot in Expanded and can have up to 4 copies of it in your deck. Such a powerful effect, however, is circumvented by the clause of ending your turn, which may or may not be the worst drawback on a card depending on what effect it gives.
I've seen various cards whose effects instantly ends your turn, but that doesn't stop some cards from seeing play, ranging from amazing cards like Tropical Beach all the way to Zacian-V. But there are worse ones out there such as Professor Oak's Hint or Rotom Bike. Camping Gear seems to straddle between those groups. You only need to play Camping Gear when you've done everything else such as using Supporters, evolving Pokémon, and/or using abilities. It then comes down to either using Camping Gear or to attack. There are some legitimate uses to justify using Camping Gear, and that is if your deck is built to not attack at all and stall the game, or when you're Pokémon is unable to attack due to either not having enough energy to attack or that the Pokémon doesn't attack at all, Paralysis/Sleep with no way of switching that Pokémon out, or if the player goes first. With such scenarios, ending your turn isn't that big of a drawback.
There are competition against Camping Gear in both formats. Tropical Beach and Zacian-V are mentioned earlier, but then there's Snorlax from Vivid Voltage imitating Tropical Beach. But the same could be said with other competitors; one can max out at four and hope they'll draw into it (and/or Quick Ball) on their first turn. If they don't, then they'll pretty much discard fodders. Camping Gear is also a nice alternative for when such decks aren't running Snorlax, Zacian-V, or the like.
Ratings:
Standard: 4/5
Expanded: 3/5
While compiling my personal top X list, Camping Gear was the one that caught my eye as I still think this card has a lot of potential. Perhaps the only reason why I place this card as my top pick is that it is one of the best generic, non-specific card out of the entire Battle Styles set and it reminded me of an extremely powerful card that's still Expanded and Legacy legal. I did not expect Camping Gear to be on the official list, though. If this card isn't prevalent in tournaments, then it is another one of those cards that one shouldn't forget about, especially when annual rotation cuts out some cards.
---
We would love more volunteers to help us with our Card of the Day reviews.  If you want to share your ideas on cards with other fans, feel free to drop us an email.  We'd be happy to link back to your blog / YouTube Channel / etc.   😉
Click here to read our Pokémon Card of the Day Archive.  We have reviewed more than 4200 Pokemon cards over the last 20 years!