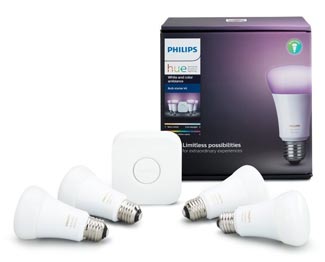 For your office, living room, setup or home in general, lighting is often understated, although good lighting is one of the most cost effective ways to improve the aesthetic and personality of whichever area you are working or leisuring in.
Measure brightness correctly.  Be sure to measure in lumens.  The problem with measuring bulbs by watts is that inefficient but dull bulbs consume more watts than bright but efficient bulbs.
LED light bulbs are an essential investment because they consume significantly less power than regular light bulbs.  Not only do they last a very long time, but they can easily pay for themselves (compared to incandescent and CFC bulbs) within a year.
Daylight vs. Soft White.  Daylight is a bright pearly white color and Soft White is a slightly more yellow and dim color.  In my case, I use Daylight in the kitchen/garage (for maximum visibility and industrial use) and Soft White in bedroom/dining area/living room (for a more relaxed look; because daylight is too intense).  For the bathroom, I tend to use Soft White in the mirror/vanity area and Daylight in the showering area.
Smart Bulbs.  They are pricier than regular bulbs, but are they worth it?  In a bedroom, for those who want to shut the lights off without getting up, sure.  In any room in which you spend a lot of time and want to make the atmosphere more comfortable, sure.  In most cases, they are overpriced for just regular use.
RGB LED Light Bulbs.  There are light bulbs that change in color and can be controlled via the smartphone.  However, they are pricy.  Most of the affordable <$20 RGB bulbs are very dim.  They're meant to be used for a small lamp rather than lighting an entire room.  There are RGB light bulbs out there which can fill an entire room, but you could very well be looking to spend at least $100 per room, so this is a niche luxury at best.