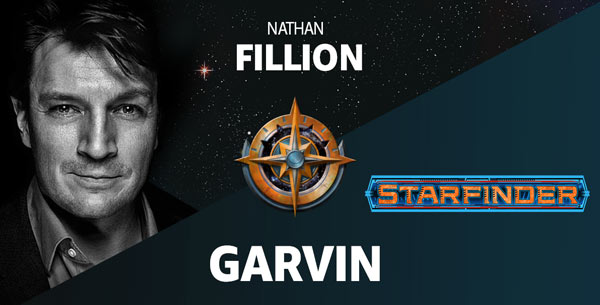 Announcing Starfinder, a New Interactive Alexa Game Featuring Voice Talent Laura Bailey and Nathan Fillion
REDMOND, WASHINGTON (August 4, 2020): The first three episodes of Starfinder are available starting today. The Starfinder Alexa game is a multi-part interactive audio adventure that transports players to a futuristic science-fantasy world where they can make decisions to advance and influence the outcome of the story just by using their voice. By simply saying "Alexa, play the Starfinder game," customers can play one of the most captivating audio games available on Alexa-enabled devices today. Paizo, the team responsible for the popular Starfinder tabletop game, and Amazon collaborated to reimagine the game for Alexa. Pre-existing fans of the roleplaying game will enjoy this new extension of the familiar world, but previous experience with source material is not required.
Starfinder features an exceptional voice cast of 13 actors, including Nathan Fillion (Castle and Firefly) and Laura Bailey (The Last of Us Part II). Casting was led by the Audible Studios team – featuring some of their most popular performers, with almost 2,000 audiobook performances between them. Starfinder's script exceeds 745 pages and took a combined 125 hours in the studio to record all of the possible twists and turns, resulting in up to 13 hours of gameplay.
The free to play pilot episode of Starfinder, "Scoundrels in the Spike," debuted in December 2019 and was well-received by Alexa users, with a 4.6/5 stars rating. "I love this game!!! The narration is wonderful, and the sound effects are on point. The voice acting is like watching a movie. I can't wait for the rest of the game to come out!" said an Amazon customer in a review following the debut of the pilot.

"We're thrilled to bring together creative sci-fi storytellers with top industry voice talent, to offer an unfounded immersive audio game experience," says VP of Amazon Entertainment Devices and Services Marc Whitten. "The casual gaming category is becoming increasingly popular and the Starfinder skill for Alexa is a great example of how audio and voice-enabled entertainment is evolving to entertain the masses."
In today's stay-at-home culture, voice and smart speakers are quickly becoming an integral part of people's lives. Engagement on Alexa has nearly quadrupled over the last two years, with more than 100,000 Alexa Skills available to date. With more and more customers embracing voice, Starfinder is launching at an ideal time, and Alexa provides a unique vehicle for this form of entertainment.
The pilot and episodes 1 to 3 of Starfinder are now available on any Alexa-enabled device, including Amazon Echo, Fire TV, and the Alexa mobile app (explore more Alexa-enabled devices here); players have numerous access points to the game and can resume playing whenever, wherever. Episodes 4 to 6 will be available in October. The pilot is free to play, and customers can purchase each episode for $1.99 or the full season for $9.99.
Start playing today: US Players / UK Players.
###
About Paizo
Paizo Inc. is one of the world's leading hobby game publishers. Since 2002, millions of players have joined the goblin army by playing the Pathfinder® and Starfinder® Roleplaying Games in homes, at conventions, at their favorite local game stores, and digitally on virtual tabletops. Paizo.com is an online retail hobby destination for gamers that carries the latest products from top hobby game publishers. Players can also find the newest releases, as well as accessories like dice and maps, miniatures, T-shirts, goblin plush toys, to quickly replenish their adventuring supplies for the next dungeon run.
CONTACT INFO:
Aaron Shanks
Public Relations Manager
Paizo Inc.
(425) 250-0800
Fax (425) 250-0801
aaron.shanks@paizo.com
Paizo.com
7120 185th Ave NE Ste 120
Redmond, WA 98052-0577