Todd
Todd: Todd was mentioned a coup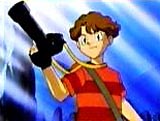 le times in the Pokemon cartoon. He's a Pokemon photographer - a famous for it. He believes in taking pictures of Pokemon naturally - not where the Pokemon is posing. Todd hung around with Ash, Misty, and Brock only for a while. Team Rocket found out (the hard way) that Todd was great at capturing rare Pokemon --- on film.
~~~Eevee Girl~~~
------------------
Thanks to CatDog for the image
---
Pojo.com is here to provide guidance to all Pokemon trainers out there. Whether it's the Gameboy Game, N64 or the Trading Card Game, PoJo.com provides all the wisdom you desire.
If you have cool game tips, a killer deck, or breaking news ... send them to us. We'll post it on the site ... and give you all the credit.