Pojo's Trading Card Game Home Page
This is an old section of Pojo.com. It's being kept up for historical reference.
TCG Price Guide
The most informative and descriptive Pokemon Trading Card price guide on the Internet. Also, the most popular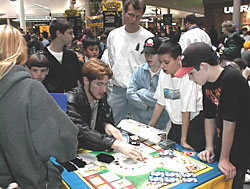 Pokemon Price Guide on the Internet.
Killer Deck Reports
Great write-ups from fans about how their TCG decks have done in tournaments from around the globe.
TCG Tips & Strategies
Tips & Strategies about the playing the Trading Card Game. Some very informative articles to help make you a master of the TCG.
Deck Garage
Having trouble with your Deck? Get a Tune-Up from one of our Deck Mechanics! There is some fun reading in here.
Card of the Day - The CotD team picks a different card a few times a week, and goes over it with a fine-tooth comb!
Card of the Week
Jonathan Ng takes a fun & detailed look at the TCG cards
Top of the World
Ness interviews with the top ranked Pokemon TCG Players
TCG Spoilers & Card Set Lists
Want to know all the cards in the set, and what they say? Look no further.
Reconstructed Preconstructed
We help you tweak those Preconstructed Theme Decks, to help give you the winning edge against your friends.
Places to Play
A great listing of the places to play TCG tournaments.
Walk-through Tutor
Don't know how to play the TCG? Here is a great walk-through.
On-line Rules
A link to Wizards Official On-line Rulebook
DCI Ratings
A shortcut to check your Pokemon DCI rating
| Home |
| Gameboy Tips || Trading Card Game || Links |
| Pokemon News |
This site is not associated with Nintendo, Wizards of the Coast, Creatures, or GAMEFREAK. Pokemon, Gameboy, and Gotta catch 'em all! are registered trademarks of Nintendo.
The Pokemon Trading cards, and energy symbols are copyrights of Wizards of the Coast.