About Pojo.com and The Pojosama
Pojo.com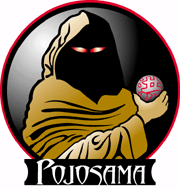 is the Internet's premiere location for the most popular of Gaming issues. We have a dedicated round-the-clock staff that prides ourselves on responsiveness to our viewer's questions, concerns and suggestions. We love the games and the genre, and love staying involved in the most up-to-date information about the world's greatest craze!
The Pojosama is the mysterious mentor for everyone at Pojo.com. We know so little about him. The more we learn about him (through rumors and lore), the less we seem to _know_ him. The Pojo.com staff honors his skill with our work, and some day we hope to tell his story to the rest of the Pokemon community.
As always, we are greatly indebted to the Pojosama fans who help support Pojo.com site by their endearing contributions to every section of the site.
Using Our Photos
All photographs found on the Pojo Web site are the exclusive property of www.pojo.com. No photos may be copied or used from the www.pojo.com Web site; however, you may link to the Web site.
Using Our Price Guide
The price guide is exclusive property of PoJo.com. As it is also used in our magazine, you can not copy this information to your website or any other publication.
Want more information on PoJo's Unofficial Pokemon News and Price Guide? Click Here.
Back to www.pojo.com