Nintendo Tips
- Pokemon SNAP
- Pokemon Pinball
- Gameboy TCG cart
- Gameboy Yellow
- Gameboy Red/Blue
- Gold & Silver
- Pokemon Stadium
Trading Card Game
- Price Guide
- Killer Deck Reports
- Deck Garage
- Featured Articles
- TCG Strategies
- Single Card Tips
- Rules: Q & A
- Top of the World
- Pie's Bakery
- Chipmunk's Chatter
- PokeDoc's Parlor
- Apprentice & Patch
- Apprentice League
- Spoilers & Translations
- Collector's Corner
- Places to Play
Cartoon Info
- Episode Listing
- The Characters
- What's a Pokemon?
Advertise With Us
- Sponsors
- Links
Join Our Mailing List for your chance to win free prizes!



The June 2001 issue of
PoJo's Pokemon & Other Way Cool Stuff is out!
05.07.01 The June 2001 issue of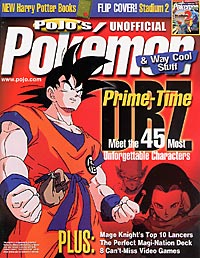 Pojo's Pokemon News & Price Guide is on sale now. This is our last issue.
You may find some "specials" of DBZ, Pokemon, Magic, Digimon, etc. ... but the monthly run is over with this issue. But man, it was fun!!!
What will you find in this issue Pojo's Pokemon:
A great two part feature on the Girls of Pokemon. Kittyfox did a phenomenal job with this article!
The Top 15 Pokemon Cards by Underdog!
Ask the Master, with Scott Gerhardt
A 4 page interview with Dark Master Trainer Mike of Wizards of the Coast!
A Pokemon Stadium 2 Survival Guide!
Pojo's Puzzler - This month by Ness!
Single Card Strategies from Kittyfox, Doll, Jason K, & Gym Leader Phil.
Deck Garage fixes from GLitcH & Satoshi.
Killer Decks from FlareonMaster & PokeSensei!
Our Killer Price Guide, Fan Art, Fan Letters, News & a Whole lot more.
And here's what you'll find on the flip side:
Meet the 45 Most Unforgettable Characters in Dragon Ball Z!
Building the perfect Magi-Nation Deck by El Ravager!
The world of Harry Potter
The Top 10 New Mage Knight Lancer figures (with images) by Michael Yates!
Magic The Gathering 101. (Part 3)from Scott Gerhardt
How to get into Magic, from WakkoDjinn
Hot Video Games, Anime News & More!
PICK ONE UP SOON, BEFORE THEY'RE GONE.! (Most fans say they are easiest to find at Best Buy, Blockbuster Video and Walmart. Most good bookstores have them too!)
Want to buy your copy of PoJo's Pokemon Magazine at a Newsstand? Here are just a few of places that carry our magazine:
Supermarkets:
A & P
Albertson's
BiLo
Bruno's
Canada Safeway
Brookshire
Food Lion
Grand Union
Ingles
Kroger
Lucky
Piggly Wiggly
Publix
Ralph's
Safeway
Smith's
Stop'N Shop
Von's
Winn Dixie

Bookstores:
Borders
Barnes and Noble
B. Dalton
Books A Million
Crown Books
Cole's
Hastings
Waldenbooks


Drug:
American
CVS
Eckerd
Walgreens
Brooks
Rite Aid

Convenience:
Circle K
Dairy Mart
Southland
Diamond
7-11

Discount:
K-Mart
Target
Wal-Mart

Military:
AAFES
Navy Exchange

Airports:
Hudson News
WH Smith

Misc.:
On Cue
Media Play
KB Toys
Zany Brainy
Blockbuster Video
Back to www.pojo.com
---
Pojo.com is here to provide guidance to all Pokemon trainers out there. Whether it's the Gameboy Game, N64 or the Trading Card Game, PoJo.com provides all the wisdom you desire.
If you have cool game tips, a killer deck, or breaking news ... send them to us. We'll post it on the site ... and give you all the credit.