Nintendo Tips
- Pokemon SNAP
- Pokemon Pinball
- Gameboy TCG cart
- Gameboy Yellow
- Gameboy Red/Blue
- Gold & Silver
- Pokemon Stadium
Trading Card Game
- Price Guide
- Killer Deck Reports
- Deck Garage
- Featured Articles
- TCG Strategies
- Single Card Tips
- Rules: Q & A
- Top of the World
- Apprentice & Patch
- Apprentice League
- Spoilers & Translations
- Collector's Corner
- Places to Play
Cartoon Info
- Episode Listing
- The Characters
- What's a Pokemon?
Advertise With Us
- Sponsors
- Links
Join Our Mailing List for your chance to win free prizes!



Suzie
Suzie is a Pokemon Breeder,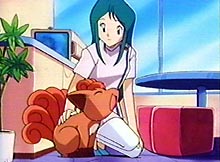 which is one of the many reasons Brock likes her. Brock helped convince her that it isnít what a Pokemon looks like, itís the inner strength. Her Vulpix proved that, when it used Fire Spin to send Team Rocket flying. She went back to school, but she didnít forget about Brock. Brock was the only other person besides Suzie that Vulpix liked. Since Suzie went back to school, she gave Brock her Vulpix, and he takes excellent care of it.
Petey
---
Pojo.com is here to provide guidance to all Pokemon trainers out there. Whether it's the Gameboy Game, N64 or the Trading Card Game, PoJo.com provides all the wisdom you desire.
If you have cool game tips, a killer deck, or breaking news ... send them to us. We'll post it on the site ... and give you all the credit.