Nintendo Tips
- Pokemon SNAP
- Pokemon Pinball
- Gameboy TCG cart
- Gameboy Yellow
- Gameboy Red/Blue
- Gold & Silver
- Pokemon Stadium
Trading Card Game
- Price Guide
- Killer Deck Reports
- Deck Garage
- Featured Articles
- TCG Strategies
- Single Card Tips
- Rules: Q & A
- Top of the World
- Apprentice & Patch
- Apprentice League
- Spoilers & Translations
- Collector's Corner
- Places to Play
Cartoon Info
- Episode Listing
- The Characters
- What's a Pokemon?
Advertise With Us
- Sponsors
- Links
Join Our Mailing List for your chance to win free prizes!



Stella
Stella is the ringmaster of the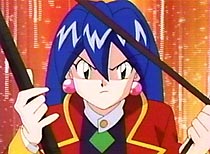 Pokemon Circus. The main act is Mr. Mime, but there are many other Pokemon, including Dodrio, Ponyta, Rapidash, Exeggcute, and many more! One time, she didnít take care of her Mr. Mime, and it stopped acting in the middle of a show, and then she couldnít get it up. Then, Team Rocket had a tank that couldnít be stopped. Mr. Mime got up and used Barrier to get the tank stuck and now itís in the circus again.
Petey
---
Pojo.com is here to provide guidance to all Pokemon trainers out there. Whether it's the Gameboy Game, N64 or the Trading Card Game, PoJo.com provides all the wisdom you desire.
If you have cool game tips, a killer deck, or breaking news ... send them to us. We'll post it on the site ... and give you all the credit.