Nintendo Tips
- Pokemon SNAP
- Pokemon Pinball
- Gameboy TCG cart
- Gameboy Yellow
- Gameboy Red/Blue
- Gold & Silver
- Pokemon Stadium
Trading Card Game
- Price Guide
- Killer Deck Reports
- Deck Garage
- Featured Articles
- TCG Strategies
- Single Card Tips
- Rules: Q & A
- Top of the World
- Apprentice & Patch
- Apprentice League
- Spoilers & Translations
- Collector's Corner
- Places to Play
Cartoon Info
- Episode Listing
- The Characters
- What's a Pokemon?
Advertise With Us
- Sponsors
- Links
Join Our Mailing List for your chance to win free prizes!



Rudy
The third gym leader in the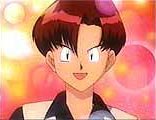 Orange League is Rudy. If you get past the obstacle course at the beginning of the gym, you'll be ready for the contest. It's called the Type Challenge. Rudy will ask you what Pokemon Types you want to use, and he'll use them against you. If you defeat him 2 out of 3, you'll win the badge. Ash chose an Electric, Grass and Water Type. The first round was Electabuzz vs. Pikachu. Electabuzz won easily. The next round was Exeggutor vs. Bulbasaur. Bulbasaur's Sleep Powder defeated Exeggutor. The final battle was Starmie vs. Squirtle. Squirtle was almost defeated, but learning Hydro Pump at the last minute earned Ash the Spikeshell Badge.
Petey
-----------
Rudy is the Trovita Island Gym Leader. When Misty saved his little sister, he fell in love with her. Rudy automatically danced with her when she reached land. And even worse, he asked Misty to stay with him during dinner! (I was furious.) Of course, she didn't know what to say, so Rudy said she could answer after the match. The next day, during the match, it doesn't look like Ash is going to win, and Misty says, "Ash, don't just stand there and let him beat ya! You're the only one who can bring out Squirtle's real power!" (Then Rudy says, "she wants him.") Ash wins the match. When the gang gets ready to leave, Rudy says, "I know you've already made your decision. You're a really lucky guy Ash." Of course, Ash didn't know what he meant. (: Well, I guess that's it, but I want to say one more thing: Misty loves Ash AND Ash loves Misty!!!! Misty's part is obvious, but Ash's part is hidden well. Why do you think he's really brave and saves the world a lot? Because he's trying to impress Misty!!!!! I just figured out today. -the #1 Misty fan
---
Pojo.com is here to provide guidance to all Pokemon trainers out there. Whether it's the Gameboy Game, N64 or the Trading Card Game, PoJo.com provides all the wisdom you desire.
If you have cool game tips, a killer deck, or breaking news ... send them to us. We'll post it on the site ... and give you all the credit.