Nurse Joy
Like Officer Jenny, there is little difference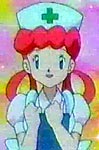 among the Nurse Joy's of pokemon. There are the small differences though, which is more than what can be said about the officer jennies; like in one of the orange islands episodes, one of the nurse joy's had a really dark tan. Nurse joy's helping pokemon typically tends to be a chansey, as chansey tend to come across as caring pokemon and are specifically trained to work at pokemon centers with nurse joy. There is the one exception, however, in one of the jhoto episodes where nurse joy is seen with a clumsy blissey (thats close enough though, as blissey is chancey's evolution).
Nurse joy is a very caring person and always seems very willing to take care of sick and injured pokemon. In that same orange islands episode, it shows that she cared so much for a measley magikarp, that the magikarp evolved into gyarados, which still loved her and saved them from team rocket (everyone knows gyarados are difficult to train).
One exception to the sweet and sensitive side of nurse joy is the nurse joy from the majorly poluted city in which ash caught his muk. It was late at night when ash brought pikachu to the pokemon center, when nurse joy explained to ash that it probably just has a cold. But the way she explained it made ash feel like she just didint even care. But it was late at night, in a crappy city, so we can understand. --ashlee—
---------------
Nurse Joy is a kind hearted pokemon nurse that cures and heals weak and sick pokemon there an some identical and some not that are Scattered across Kanto/Jhoto Nurse joy has pink hair and the pokemon she has (seen on tv) are chansey and blissey. She usually is Seen in Poke Centers. - Catdog98
-----------
Thanks to N64Nut2 for one of the images.
---
Pojo.com is here to provide guidance to all Pokemon trainers out there. Whether it's the Gameboy Game, N64 or the Trading Card Game, PoJo.com provides all the wisdom you desire.
If you have cool game tips, a killer deck, or breaking news ... send them to us. We'll post it on the site ... and give you all the credit.