Nintendo Tips
- Pokemon SNAP
- Pokemon Pinball
- Gameboy TCG cart
- Gameboy Yellow
- Gameboy Red/Blue
- Gold & Silver
- Pokemon Stadium
Trading Card Game
- Price Guide
- Killer Deck Reports
- Deck Garage
- Featured Articles
- TCG Strategies
- Single Card Tips
- Rules: Q & A
- Top of the World
- Apprentice & Patch
- Apprentice League
- Spoilers & Translations
- Collector's Corner
- Places to Play
Cartoon Info
- Episode Listing
- The Characters
- What's a Pokemon?
Advertise With Us
- Sponsors
- Links
Join Our Mailing List for your chance to win free prizes!



Meowth - of Team Rocket
Meowth a loyal member of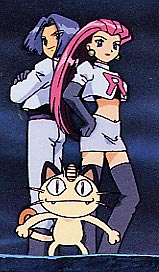 Team Rocket. Meowth is also one of the few Talking Pokemon. Meowth is on the same Team Rocket squad as Jessie & James
-------------
I know some of meowth's past. I can't remember if he was born on the streets or was abandoned on the streets, anyway, he was wandering around and saw some kind of movie with a meowth on it. The meowth had all sorts of food like ham and stuff. Then at the end of the movie it said somthing about Hollywood. Meowth decided that he would go to Hollywood so he hitched a ride on a truck and jumped of at Hollywood. He was stealing some meat out of a shop and got cought by the angry chef and was thrown out the shop. Meowth was starving by now. He closed his eyes and when he opened them there was a Persian with a whole bunch of other meowths standing over him. They threw a fish towards him. Meowth looked at them gratefully, meowed, and started eating. Then he joined the group. The next day he was across a street and saw a pretty meowth in front of a shop. He ran across the street with a fish in his mouth and gave it to her and sang to her. Then a fat lady wearing jewels came out of the shop and said "Get away from my meowthsy, you filthy ally cat. Meowthsy come darling, I bought you a new diamond studded poke' ball." Then meowsy meowed to meowth "I can never love you, you have no one take care of you, you're a loser, you're just a alley cat, you're not even human." Then she returned to her poke' ball, leaving meowth thinking "I saw the way she looked at those diamonds, how can I match up to that?"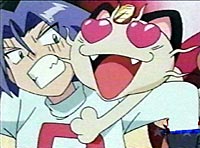 The next day he decided to get human enough for meowthsy. He started walking, slowly. He could walk, just not that fast. So he would get cought by the chef and got thrown into a room. That room was right over a dance room. The instructor would have the students say "She sell sea shlells by the sea shore" to get them focussed. Meowth got cought every day and would listen to the people. Then one day he started, "She shells shea shells by da' shea shore" Then he got it right. Then he learned the alphabet and the words "team" and "rocket" Then he learned the whole English language. Then got into teamrocket. Then later he, Jessie, and JAMES went to Hollywood and meowth was looking around the place, then he saw them, persians group. Then he saw HER! It was meowthsy. He found out that meowthy's owner had dumped her on the street because her money was running out. She hadn't wanted to join the group but she had no choice. Meowth said he was taking meowthsy with him and persian shook his head and the meowths started attacking meowth then J & J came and said(or rather sang): Prepare for trouble, Make it double, we came to find meowth cuz he was gone for to long. We got tired of our motto so we thougt we'd try this song....Then they actually won a battle with the meowths. Then meowth fought persian and won! Then meowth came and ran towards meowth, and passed him and ran to persian. "WHAT" meowth said. Meowthsy meowed somthing and James said "What'd she say, meowth?"She said that though I can talk and walk like a human, I'm still a, a, a loser! Jessie "Well at least he's our loser."
There you go,
~*Talia*~
---
Pojo.com is here to provide guidance to all Pokemon trainers out there. Whether it's the Gameboy Game, N64 or the Trading Card Game, PoJo.com provides all the wisdom you desire.
If you have cool game tips, a killer deck, or breaking news ... send them to us. We'll post it on the site ... and give you all the credit.