Lara Laramie
Lara Laramie and her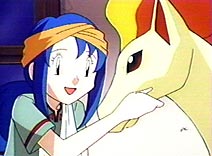 family own the Big P Pokemon Reserve. Itís a Pokemon reserve just ahead of the Safari Zone. She used to have a Ponyta and a Growlithe, but when a race came along and she broke her arm, Ash rode Ponyta for her. In the end, it was one-on-one with the Dodrio trainer, Dario. Just when it seemed like Ponyta would lose, it fought back by evolving into Rapidash. The other Pokemon the Laramies raise are Nidorino, Nidorina, Tauros, Dodrio, Rhyhorn, Electrode, and many more.
- Petey
----------------
Lara Larame - Ponyta Breeder
Owner of a ranch full of Ponyta. One of hers evolved into a Rapidash when Ash entered it in a race. Her Ponyta are reputed to be the strongest and fastest around. - Laura Nycum
---
Pojo.com is here to provide guidance to all Pokemon trainers out there. Whether it's the Gameboy Game, N64 or the Trading Card Game, PoJo.com provides all the wisdom you desire.
If you have cool game tips, a killer deck, or breaking news ... send them to us. We'll post it on the site ... and give you all the credit.