Nintendo Tips
- Pokemon SNAP
- Pokemon Pinball
- Gameboy TCG cart
- Gameboy Yellow
- Gameboy Red/Blue
- Gold & Silver
- Pokemon Stadium
Trading Card Game
- Price Guide
- Killer Deck Reports
- Deck Garage
- Featured Articles
- TCG Strategies
- Single Card Tips
- Rules: Q & A
- Top of the World
- Apprentice & Patch
- Apprentice League
- Spoilers & Translations
- Collector's Corner
- Places to Play
Cartoon Info
- Episode Listing
- The Characters
- What's a Pokemon?
Advertise With Us
- Sponsors
- Links
Join Our Mailing List for your chance to win free prizes!



Delia Ketchum (Ash's Mom)
Ash's mom is very s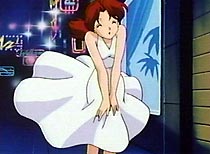 supportive of him and his dreams, and she didn't really ever try to hold him back. She does tend to embarrass him sometimes, but I don't think she means to. She is always worrying about him, though, and tends to get upset every time he saves the world (like in movie 2 and movie 3) She has a pet Mr. Mime which she calls Mimey and does the housework with her. In Pokemon the Movie 3: Spell of the Unknown the little girl Molly has Entei kidnap her and brainwash her into thinking she's her mother, but then she sees Ash on TV and remembers who she is. I think that Prof. Oak might like her!
Rachel
---
Pojo.com is here to provide guidance to all Pokemon trainers out there. Whether it's the Gameboy Game, N64 or the Trading Card Game, PoJo.com provides all the wisdom you desire.
If you have cool game tips, a killer deck, or breaking news ... send them to us. We'll post it on the site ... and give you all the credit.