Butch & Cassidy
Butch and Cassidy are two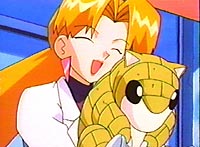 other team rocket members. They have made 2 appearances. one in kanto and one in the orange islands. They have a drowzee and a raticate. They have tricked people into leaving pokemon at a fake breeding center just to take the pokemon to giovanni. They also used the drowzee to hypnotize pokemon to leave their trainers and join team rocket. Their first appearance was in the breeding center secret. They used the breeding center to get their drowzee super strong. They are also interested in getting ash's pikachu. Their second appearance was in pikachu revolts. - elee01
----------------
Butch and cassidy are members of team rocket so far they 2 appearances (3
next week) and they are Jessie and James's rivals. in the first appearance
they open up a fake center Ash misty and brock took care of them. in the 2nd
appearance they hypnotize pokemon with a drowzee, togepi destroyed the
controls and blew up the building. in their 3rd appearance they trick James
into thinking he is as mighty as moltres but James and victreebel stop them
but unfortunately (and confusingly) they blast off again - TeamRocket897456
---------------
Butch & Cassidy are the serious Team Rocket members. Cassidy apparently
really likes Sandshrew, as she makes an attempt to steal it twice and makes
a plan to train one. I hope she doesn't get one-I love Sandshrew. Butch,
like James, seems really dumb. He and James established a rivalry because of
Jessie and Cassidy's rivalry.
-SludgeBomb
---
Pojo.com is here to provide guidance to all Pokemon trainers out there. Whether it's the Gameboy Game, N64 or the Trading Card Game, PoJo.com provides all the wisdom you desire.
If you have cool game tips, a killer deck, or breaking news ... send them to us. We'll post it on the site ... and give you all the credit.