Nintendo Tips
- Pokemon SNAP
- Pokemon Pinball
- Gameboy TCG cart
- Gameboy Yellow
- Gameboy Red/Blue
- Gold & Silver
- Pokemon Stadium
Trading Card Game
- Price Guide
- Killer Deck Reports
- Deck Garage
- Featured Articles
- TCG Strategies
- Single Card Tips
- Rules: Q & A
- Top of the World
- Apprentice & Patch
- Apprentice League
- Spoilers & Translations
- Collector's Corner
- Places to Play
Cartoon Info
- Episode Listing
- The Characters
- What's a Pokemon?
Advertise With Us
- Sponsors
- Links
Join Our Mailing List for your chance to win free prizes!



Alicia
Olesia is a girl who lives on the outskirts of the Ilex Forest who owns a Pokemon Daycare. At the Daycare, she raises Wooper. They are her favorite Pokemon. Her favorite Wooper has a little heart on its neck. One time, her grandmother got sick and Ash, Misty and Brock had to watch the Wooper, and her favorite one got lost. Luckily, Ash and the others got it back.

Petey

____________________

Alicia appears in "No Big Woop".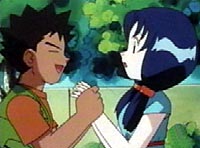 She is a young girl, who trains Wooper. She owns a Wooper training center. Ash and Company find her center in the middle of a forest. They all want to learn as much as they can from her. But, she must leave when she learns that her mother breaks her leg. So Ash, Brock, and Misty must take care of her center until she returns. -

Raichu34
---
Pojo.com is here to provide guidance to all Pokemon trainers out there. Whether it's the Gameboy Game, N64 or the Trading Card Game, PoJo.com provides all the wisdom you desire.
If you have cool game tips, a killer deck, or breaking news ... send them to us. We'll post it on the site ... and give you all the credit.