Nintendo Tips
- Pokemon SNAP
- Pokemon Pinball
- Gameboy TCG cart
- Gameboy Yellow
- Gameboy Red/Blue
- Gold & Silver
- Pokemon Stadium
Trading Card Game
- Card of the Day
- Price Guide
- Killer Deck Reports
- Deck Garage
- Featured Articles
- TCG Strategies
- Single Card Tips
- Rules: Q & A
- Top of the World
- Apprentice & Patch
- Apprentice League
- Spoilers & Translations
- Collector's Corner
- Places to Play
Cartoon Info
- Episode Listing
- The Characters
- What's a Pokemon?
Advertise With Us
- Sponsors
- Links
Join Our Mailing List for your chance to win free prizes!



Ness'
Card of the Day
Typhlosion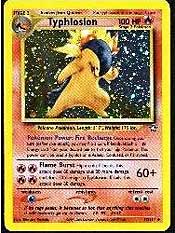 Hey everyone.. I'm back with a CotD on Typhlosion (with Fire Recharge). This card was also popular at the STS. I had a bunch of quotes for people on this card, but I lost them. Sorry.

Fire Recharge
Fire Recharge is a great power. It works great with multiple Typhlosions especially. It allows cards like Blaine's Charizard, Blaine's Arcanine, even Base Set Charizard to be extremely effective, even in standard format.

With 2 Typhlosions you can average an extra free energy each turn. This gives you a huge advantage over your opponent, and this is why you can actually get away with playing Typhlosion AND Blaine's Arcanine in standard and still win with it.

Flame Burst
Flame Burst is a nice attack. Oddly, you'll probably want to flip tails more than heads to avoid damaging yourself, but a metal can take away that 20 and bring it down to 0 if you'd rather not take a chance. You can always retreat to get the metal off.. it can provide enough energy for itself.

Cyndaquil & Quilava
The 50 HP Cyndaquil is obviously the better choice, with a decent Quick Attack, and a Fireworks attack that can slow it down, but prepare for Typhlosion. The Quilava with Char is also the better choice over the other, considering Char Counters are so difficult to get around.

Magby
While Magby is less popular because Igglybuff is a better Slowking stopper (although in some ways it isn't), a nicely timed Sputter can hurt the deck. After using an attack like Blaine's Arcanine's Firestorm, if you don't have enough energy in your hand, your opponent could Sputter and stall you for a lot of turns.

Rating
If I had to rate Typhlosion I think I'd give it a 8.0/10. This is an extremely underrated card, and it is a tournament playable deck.

-jason


---
Pojo.com is here to provide guidance to all Pokemon trainers out there. Whether it's the Gameboy Game, N64 or the Trading Card Game, PoJo.com provides all the wisdom you desire.
If you have cool game tips, a killer deck, or breaking news ... send them to us. We'll post it on the site ... and give you all the credit.