Yu Yu Hakusho Attack List: G
A | B | C | D | E | F | G | H | I | J | K | L | M | N | O | P | Q | R | S | T | U | V | W | X | Y | Z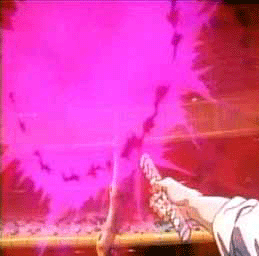 Giant Spirit Energy Staff
User: Kazuma Kuwabara
Japanese Name: Kyodai Reiki Bou
Description: In his battle against Elder Toguro, Kuwabara used the Experimental Sword to increase his power and stand a remote chance. However, due to Toguro's unexpected invincibility, Kuwabara's chance of victory was small. Luckily for Kuwabara though, his Experimental Sword could change shape to accommodate his situation, or rather by his will. As Elder Toguro lay on the ground re-forming his body, Kuwabara made the sword turn into a giant, round disc which he used to smash Elder Toguro and win the match.


Grizzly Claw
User: M
Japanese Name: Hound Claw
Description: By focusing his reiki into his fist, M can create the Grizzly claw, which has the ability to crush and shatter anything that it hits.


Gorenjya Battalion
User: Team Gorenjya
Japanese Name: Sanju Sasso
Description: The Gorenjya team moves stealthily around their opponents, creating multiple images of themselves to confuse their opponent so they cannot fight back. When the Gorenjya team believes the opponent to be utterly bewildered, they all attack with some form of attack. This proved effective in the second round of the Dark Tournament, but when facing Elder Toguro in the semi-finals, it was completely useless.