Yu Yu Hakusho Attack List: F
A | B | C | D | E | F | G | H | I | J | K | L | M | N | O | P | Q | R | S | T | U | V | W | X | Y | Z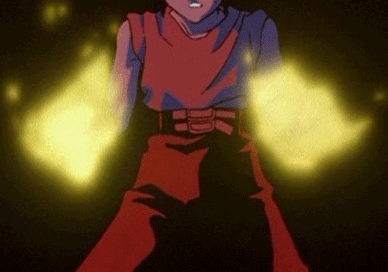 Fist of the Mortal Flame
User: Hiei
Japanese Name: Jaou Ensatsu Ren Goku Shou
Description: Similar to the Dragon of the Darkness Flame, the Fist of the Mortal Flame is useful, but not quite as powerful. Also, instead of calling upon the darkest energies of the spirit world as is done with the Dragon, the Fist calls upon mortal energy to create the attack.


Force Field
User: Ruka
Japanese Name: Peripheral Realm
Description: Ruka has the ability to create a type of force field to imprison her opponents. She uses this technique against Hiei and Mask in order to prevent them from taking part in the Masho team battle. However, the attack also has the ability to heal the wounded, and is instrumental in healing Hiei's paralyzed arm.


Frozen Hell
User: Touya
Japanese Name: N/A
Description: By concentrating the power of his ice youki, Touya can create a realm of ice around the battlefield. By doing so, he gains the advantage both in maneuverable aspects, and ki aspects. However, in the Makai Tournament, his opponent was so powerful that the frozen hell wasn't much use.

Fuyouka Shokubutsu
User: Yoko Kurama
Japanese Name: N/A
Description: A butterfly-like plant, the Fuyouka is a technique that Yoko Kurama calls upon when it becomes necessary to fly. It can carry extremely heavy loads, as demonstrated when Yoko carried himself, Kuwabara, and Hiei into Makai using them.