Yu Yu Hakusho Attack List: A
A | B | C | D | E | F | G | H | I | J | K | L | M | N | O | P | Q | R | S | T | U | V | W | X | Y | Z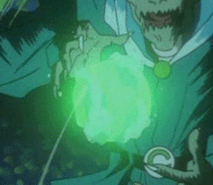 Acid Blast
User: Midorenjya
Japanese Name: N/A
Description: By focusing his yoki, Midorenjya can create a combination of ki energy and acid to create his Acid Blast technique. Also, the technique smells horribly, which may be part of the attack, distract the opponent with its putrid smell. Just a thought :-)


Angel Blades
User: M
Japanese Name: Angel Chakram
Description: The Angel Blades appear as three blades fired at the opponent. However, two of those three are only allusions to confuse the opponent.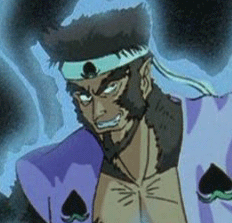 Armor of the Ape
User: Kuro Momotaro
Japanese Name: Buju Soko: Maen No So
Description: In order to become invulnerable to Hiei's sword, Kuro used the steaming spheres to memorize the pain of the sword's attack. The result was the transformation known as Armor of the Ape.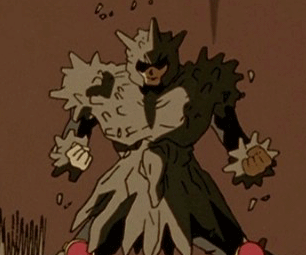 Armor of Clay
User: Risho
Japanese Name: Shura Nendo Toi
Description: By using his powers as Master of Earth, Risho produces an armor out of the ground around him that offers protection as well as offensive abilities such as meteor-like attacks.
Armor of the Wolf
User: Kuro Momotaro
Japanese Name: Buju Soko: Maken No So
Description: To show off his true power, and to gain claws and teeth, Kuro Momotaro again uses one of his steaming spheres to transform. The result this time is his final form, the Armor of the Hyena.
Armor of the Phoenix
User: Kuro Momotaro
Japanese Name: Buju Soko: Machi No So
Description: After being attacked by Hiei's Fist of the Mortal Flame, Kuro uses his steaming spheres to once again memorize Hiei's attack, thereby transforming into the Phoenix.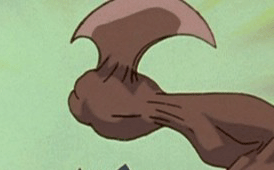 Axe Blade Fist
User: Makintaro
Japanese Name: Masakari-Ken
Description: Makintaro can morph his hand into a powerful axe, that combined with his strength is a powerful weapon. However, against Hiei, it was completely useless.