Super Mario Sunshine
Console: GameCube
Genre: Platform
Rated: Everyone
Players: 1
Blocks to save: UNKNOWN
Release: August 26, 2002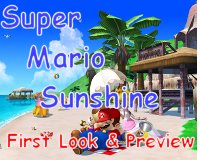 Eternal Sunshine
It has been more than 5 years since the world last saw everyone's favorite plumber. That's too long, but thankfully we are about to get our Mario wants and needs handed to us. Nintendo is releasing what Shigeru Miyamoto (Mario's Creator) calls the "properly evolved version of Super Mario 64": Super Mario Sunshine. For people that don't know what that means: it means that the world will soon see something that could quite possibly blow Mario 64 out of the water. Super Mario Sunshine will do this Graphics wise, gameplay wise, and story wise. Some aren't too sure of this statement, because of some of the "low quality" textures that remain in Super Mario Sunshine, but in motion the game looks excellent, and will defiantly fu-fill Mario Fans needs for quite some time. With the Japanese receiving the game in less than a week, and the US in little more than a month people will soon know that Mario can do no evil. After seeing plenty of media, and hearing about tons of hands-on impressions you can tell that the game could be the best Mario game yet. And for those who still are worried about Mario Sunshine turning into another short, sweet, but not 'enough' like Luigi's Mansion -- this will in no be anything like Luigi's Mansion. Luigi's Mansion was originally only a Tech Demo for Space World, and E3, but that game came so far along in development that it was published. Super Mario Sunshine is a more than 4-year-old game in production with plenty of "Shiggy" glorious innovation to go around for weeks.

Storyline
Mario wont be in his usual world like seen in the previously released Mario 64 - this time he will find him self on a simple vacation. The game is all revolving around a tropical theme, and is something new for the plumber, Mario. Even, though the game takes place at the beach player's will get plenty of Volcano, and Snow levels to go around, but that's now what makes Mario Sunshine completely new. As most know Volcano, and Snow levels were popular in Mario 64, but the storyline is some that players will find themselves not recognizing. No more rescuing princesses in this Mario game. This time it's off to a tropical island where Mario hopes to get a break from his plumber-hero life. But little did he know that he would probably end up being better of at home with Luigi, instead because in this Mario game. Shigeru Miyamoto once again comes up with a storyline that no one would have thought of. Nintendo has made little official comment about the storyline, but what is said sounds obviously fun:

"Super Mario Sunshine is much different than what you might expect. This time, things are much more complicated than simply rescuing Princess Peach from Bowser. The adventure starts when Mario and Peach decide to take a well-deserved vacation to a beautiful island in a remote location. Since the island is perpetually sunny and inhabited by friendly locals, it seemed like the perfect choice at first.
In typical fashion, poor Mario never gets a chance to relax. When he arrives on the island, he notices ugly scribble marks covering the walls throughout the community. What's worse, the person responsible for the scribbling has disguised himself to look just like Mario!

Mario is falsely accused by the locals, so he decides to get to the bottom of things. Armed with a new water-pumping backpack, Mario sets out to clean up the scribbling and reveal the identity of the true villain. This is the latest news from Japan, and we can't wait to learn more."
As you can see it's obviously an innovative storyline, but what will make or break the game isn't the plot, but what players expect from Nintendo - Gameplay.

Gameplay
Even though the story sounds good for Super Mario Sunshine that's not what's going to wow gamers. It's the fun, exploration, adventure, and action, platform gameplay that has always made us fall in love with Mario every time a new game is released in the series. But this time throw in some faster paced, gameplay and you get what almost looks like a cross between Sonic, and Mario 64. Even though the game earlier looked lot like a cross between the two, Nintendo seems to have redone a lot of the gameplay, and it's looking a lot like: "Mario 64's Properly Evolved Version" that Shigeru talked about so much before unveiling the game at Space World 2001. The original Suburban feeling to the game is supposedly only going to be part of the game since Miyamoto has already stated that it is only one of the many worlds in the game, but you will no longer just find yourself in a: plush, grassy environment, with a lake, and Castle behind you like in Mario 64, but this time you will find yourself in a completely new environment -- one that has us all waiting eagerly to explore as our favorite plumber. But after the latest media you may be thing that, Mario doesn't look like he's in a Suburban area anymore. The Sea surrounds him, now. It is shaping up to look more, and more like Mario is on a vacation (which he is supposed to be). Even though many haven't gotten to play the game yet, rest assured the information that we have, and all the media that you're thrown is definitely what Mario Sunshine will be like - from See Life villages to Volcano's, and Snowy Mountains, to green valleys Mario Sunshine is definitely one this years best coming games.

The controlling of the game will most likely will remain similar to previous Mario Games (especially Mario 64), but this time picture yourself playing with that comfortable GameCube controller. Yummy! The analog stick will probably control Mario, and you will be able to jump, swim, and crawl throughout the game (not including any new features that Miyamoto has thrown in). One of the newest moves Mario has with him this time around is his Water Cannon. All we know currently that Shigeru Miyamoto has told us, is his cannon is used to wash away paint on the ground, and in other spots too. After you get past the waiting and get your hands on the game once again, from the moment you start you will find yourself in a huge 3-D world all yours for the taking. You can only imagine what it will be like. You will be able to explore the world around you, and jump, swing, and swim anywhere you want. One of the features of the game that will add to the fun is the new Water Cannon. Players can shoot themselves into the air using this; it's basically an added boost. You also use this to wash away graffiti that the look-a-like crime causing character has marked up the island with. Miyamoto assures us… the whole game won't revolve around this feature and what's in store will definitely be pleasing for new comers, and old fans of the series.
Again there is supposed to 120 Shines, which will be collected by player in similar ways that the 120 stars had to be collected in Mario 64. More than 30 hours of gameplay will keep players going, along with a massive island that is free for the taking. A lot of people feared that Mario Sunshine would be another Luigi's Mansion. The facts are - Super Mario Sunshine can't be compared to the short, and layed back launch game, Luigi's Mansion. Game play is fanatic, and will be an experience only available on the GameCube. If you are doubting any of this - you shouldn't. Shigeru Miyamoto has a record for some of the best game to hit the small screen, and he has plenty of involvement with Super Mario Sunshine - it will not let you down. The title will be a must own.

You can't be talk into being hyped for this game. If you have played any other Mario game, or mostly Mario 64 then you understand what this epic game is going to be like.

Graphics
The graphic's appear to remain the same as Mario 64, but with much more improved textures, but other that it look's the same as Mario 64. Originally, as seen in the Space World video, the graphics had a whole new feel to them. They looked a lot more realistic. But according to Miyamoto, they were changed because he didn't like how it was turning out, and it wasn't going to be the experience he wants people to get from the game. His main reason behind changing the game's looks was that the newer Space World video looked too realistic for the game, and did not want Mario to be realistic. Miyamoto like Mario as a game that looks like something in a dream, something that doesn't look real, and something colorful - something you can only experience on the Nintendo GameCube, and not in reality. In other words: He wanted the game to be as far from reality as possible.
Now with an awesome E3 in our past, we now can easily tell what this title will offer. Gamers who played the title were pleased and wowed with its awesome in-game animation. From the looks of it, Miyamoto is right when he calls this game "The properly evolved version of Mario 64".

Outlook
Already Super Mario Sunshine is being hyped, and players around the world can't wait to get their greedy little hands on it. If the game does turn out like Mario 64 (which it most likely will) then we can expect huge sells, from the game and will be considered another AAA first party title from Nintendo.
This game is going to one of the best games of this generation and you do not want to miss it!
We all here at Pojo can't wait to get our hands on the game. This August will defiantly begin the glorious generation of GameCube. If you don't believe us then you'll have to live without the Sunshine…me then suit yourself, but I promise you, you should not pass up this game, but thanks to a very pleasing E3 chances are you won't.