UPPER DECK ENTERTAINMENT'S
NEW DC COMICS LEGENDS VS. SYSTEM™ EXPANSION SET
SHOWCASES THE GREATEST SUPER HEROES
AND SUPER VILLAINS IN DC COMICS' HISTORY
DC Comics' Greatest Super Heroes and Villains of the DC Universe
Invade Store Shelves in December
CARLSBAD, CA (October 9, 2007) – Upper Deck Entertainment (UDE) brings back the most iconic teams and characters in DC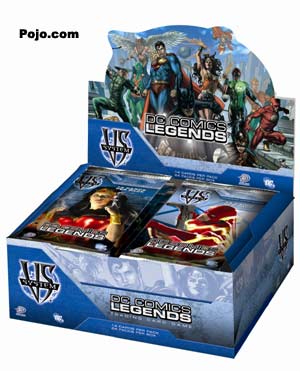 Comics' history to the Vs. System™ with the new DC Comics Legends expansion set. For the first time in Vs. System history, Batman, Superman, and the rest of the Justice League will stand alongside the Teen Titans as they go toe-to-toe with The Joker, Lex Luthor, Ra's al Ghul, and some of the most celebrated villains of all time. DC Comics Legends will be available on store shelves in December at most participating hobby and retail outlets across the U.S.
In addition to featuring DC Comics' greatest characters of all time, the 273-card set will also spotlight new versions of the most popular characters in the JLA, Teen Titans, Injustice Gang and Secret Society teams. Players will have a chance to see cards that are both familiar and powerful, including "Total Anarchy" and "Teen Titans Go!"
Featuring a new card face and larger art box, DC Comics Legends will also debut a new look for the DC Comics Trading Card Game (TCG), which is perfect for showing off the set's artwork done by some of the best comic and fantasy artists in the business. Each pack will contain 15 cards including one UDE Points card, which players can collect and redeem online for Vs. System accessories. Some packs will also contain a randomly inserted foil card from a complete parallel set.
All cards in DC Comics Legends are compatible with other cards used in the Vs. System -- UDE's unique engine designed and developed specifically to support DC Super Heroes in one-on-one competition. Development of the game included testing by top professional TCG players from around the world to ensure that the Vs. System is carefully balanced for high-level competition, as well as casual play.
The Vs. System retains its excitement in multiplayer play and is designed to support Sealed Pack and Booster Draft formats. Vs. System players can find organized play programs supporting all levels of competitive gameplay.
For more information on the DC Comics Legends expansion, the Vs. System, or Upper Deck Entertainment products, please log onto www.vssystem.com, www.upperdeckentertainment.com
or www.upperdeckstore.com.