Wreck You!
An Avengers Preview by Scott Gerhardt
July 22, 2005
Hey guys out there. Well, it's almost time for yet another new set and you know what that means – Preview Cards! I must admin I felt a little guilty trying to be any authority on cards….until this weekend. Not getting to play as much as I'd like due to my constant work on www.ShuffleAndCut.com, I was starting to feel a little down on my play ability. Despite winning a DGL pre-release flight, I failed even top 16 my last PCQ and hadn't even played anything before that (sanctioned) since PC SoCal. Now come to SDCC, and I play in 2 PCQs. And I top 8….two PCQs. Sure, I lost in the quarters of both of them, but to Ryan Jones and Vidianto "Vidi" Wijaya, #8 and #2 in the World respectively. So, after that, I'm now in the top 100 in North America and feeling much more confident that I know what I am talking about once again. But enough about me. We have Avengers to talk about!
Up today I get to show you a brand new mechanic! Well, it might not be completely new to everyone, depending on the other preview cards that are out there (haven't read ALL the sites to know). I know I got this card in my inbox about 2 ½ weeks ago, and I have been very excited to show it to everyone. I feel it will allow you to construct your deck a little differently than you had, and make you not feel so bad when a character has to take one for the team and go down into the resource row.
Well, heck. Let's stop talking and let's start revealing!
Of course,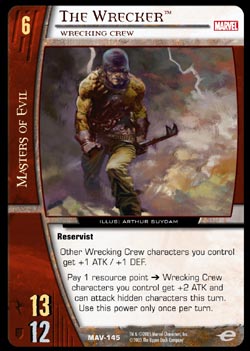 first to understand what is going on here, I have to define what "Reservist" is for you. This ability allows you to play the character from your resource row as though he were in your hand. If you do, you may put a card from your hand face down in your resource row.
Now while the ability itself is not so "broken", it gives you another very solid option to play early into your resource row, and know that you can exchange it later for something better from the hand. It's almost like a wildcard for a location or a plot twist later. Maybe you don't draw into something you need immediately – something that works later. Also, you might need to draw two things down into the resource row at once. It helps with that. Overall, the ability isn't *THAT* useful, but it certainly can work as a nice little trick, especially in limited if this set proves to be stingy on good plot twists.
As far as the rest of him goes, he definitely has an upside. He shows there are going to be other Wrecking Crew guys (or so we can assume from the text). Using that resource point late on offense can make him quite nice. A turn 7 initiative could spell some doom for your opponent. Top that off with the fact that he makes all his brethren +1/+1, and we have a guy who, if the rest of the crew is at least decent, could potentially make a solid impact on the constructed scene. I'm not real big on no flight or range, but right now ALL the players are spoiled on that after DGL. We needed to remember that it was the exception, not the rule. J
Hope you enjoyed the preview. Again, as my gratuitous plug, www.ShuffleAndCut.com has the largest inventory of Vs. System singles in the world. If you want it, we've got it. Check us out for all your needs.
Until next time, keep playing!