Main
Main Page
Site FAQ
Pojo's Message Board
Chat
DB Community
Contact Us
Interviews
Links
Anime Convention Info
Toriyama's Best (Interview)
Merchandise Guide
How to...
Who'd Play Who?
Release Dates
Game Reviews
DB Theory
DBZ Polls
DBZ Quizzes

CCG
Price Guide
Killer Decks
Tips
Tournaments
Promo Cards Info
Quick Start Playing
Apprentice Patch
Card of the Week

By Fans
Episode Summaries
Song Parodies
Voice Overs
What If...?
DB vs. Pokémon
Fanart
Stories
Editorials
Anime Reviews
Art of Ki Lessons
Japanese Lessons

Information
Biographies
Movie Reviews
Voice Actors
King Kamehameha
Power Levels
Relation Charts
Guides
Training Locations
Character Deaths
Saiya-jin Forms
DB Summary
DBZ Summary
DBGT Summary
Item Guide
Daizenshyu Guide
Lyrics
Dialogue Scripts
Every Single Fight
Name Translations
Character Appearances
Attack List
Tenkaichi Budoukai Info
Dragonball GT Info..
Name Puns
Dragonball World Guide
Special Attacks

Multimedia
Image Gallery
Scans
Daizenshyu Scans


Submissions
Music Video
Fan Art-Open
Fan Fiction-Closed
Song Parodies
Episode Summaries
Links-Closed
DB vs. Pokemon



Pojo's Dragon Ball - Interviews
IInterview with Akire
Andy asks Akire about what it's like to be a female DB wemaster.
Interview with Bra Vegita
Andy asks many questions are asked about fights, the series, and FUNi.
Interview with Carlos
Andy and Carlos hold it down Michigan Style.
Interview with Castor Troy
Andy asks about the great mailbag section and why so many people hate Castor.
Interview with Castor Troy
Douglas asks Castor how he feels the subbed DVDs will do, as well as his opinions on the spectacular Gundam Wing dub.
Interview with Dendeshe
Another one of those strictly fan oriented sites that Andy interviews.
Interview with Gen Fukunaga
Eric asks the FUNimation CEO about DVDs, the musical score, and other various topics.
Interview with Goku30013
Andy asks general questions regarding to FUNi.
Interview with Gotenks
Gotenks, from GotenksArchives.com was the person interviewed here. Douglas asks how he got is site title and his opinions on FUNimation's future, and more, of course. Interview with Greg Werner
Andy's lengthy interview with "The DBZ Info Master" himself (Can you tell I was excited to get this one). Interview with Jeff "Kienzan" Maynes
Interview with Kara Edwards - Voice of Goten
Andy asks many questions about this unique page.
Interview with Korey Marciniak
In Andy's opinion this one was a real Bang (Wait, didn't Steve Harmon do something like this with Ramza's interview?). Um...this one was real interesting.
Interview with Lois and Danny Gresh
Andy figures that if they wrote a DBZ book they should get interviewed..
Interview with Meri Cantoni
Andy talks about Dragonball Newbies and favorite characters.
Interview with Mr.E
Andy's Interview with that guy from Planet Namek.
Interview with Mystic
Andy asks of updates to come and asks where all the info is.
Interview with P.E. Videl
Andy's very lengthy interview with the webmaster of Videl's Eternal Moments.
Interview with Ramza
This is an interview conducted by OO7, owner of MikesDBZ.com. OO7 asks Ramza how things are going with fansubbing and some of his future plans.
nterview with Sam Spencer IV
Andy goes indepth with Sam.....maybe a little too indepth.
Interview with Son Chi Chi
Andy asks many questions about this unique site.
Interview with SREDBZ
Andy does very general interview that covers just about everything.
Interview with Steve Harmon
This is an interview with Steve Harmon, owner of The Vault (now closed). The interview was conducted by Douglas awhile ago, and answers some questions about why Steve uses his real name on the internet and more.
Interview with Steve Harmon
Andy gets to interview the interview master himself, Steve Harmon, they go over opinions on Season 3 and some of Steve's favorite interviews.
Interview with Steve Harmon
Andy's follow up interview with Steve. They go over what Steve's been up and some of the new anime's on CN.
Interview with Steve Keller(Koganei)
Andy talks to Steve about his site, CVG Net, and other db internet related things. Nothing about FUNi in this one (Thank God).
Interview with Super4Gohan
Andy's interview with Supper4Gohan of MajinGohan.com. In this interview the two talk about Season 4, full episode sites, and Sean Schemmel.
Interview with Toriyama from Shonen Jump - GodsGiftToNature
Interview with VegettoEX
Andy asks VegettoEX about his mailbag, the toys r us incident, and about editorials.
Interview with VegettoTOD
Andy interviews VegettoTOD when he was at his old site, we now know him as Douglas.
Interview with Wiznut
Andy asks Wiznut what it is like to manage a fan oriented web site and what he hoped to see happen when Y2K hit.
Interview with xdannypoox
Above all things Andy brings to dannypoo's attention that some letters in his banner are backwards.
Interview with Allyson "Zandra" Muraco
Andy asks Zandra about here web page, season 3, and even about her brother.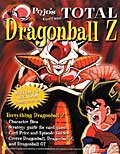 Looking for a cool DBZ book? A full 128 pages of DBZ for only $10! You can order the book right now from Amazon.com