---
PoJo's Pokémon Gold & Silver - Map
Pokemon Gold & Silver bring our hero to a new section of the continent; Johto. Towns and routes, familiar to the Red and Blue games, can be found by going east from New Bark City, your starting town.
A - New Bark City

B - Cherrygrove City

C - Violet City

D - Azalea Town

E - Goldenrod City

F - Ecruteak City

G - Olivine City

H - Cianwood City

I - Mahogany Town

J - Blackthorn City
Click on the maps below for routes and landmarks!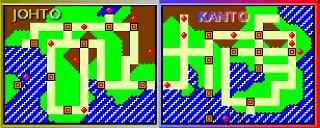 ---
Pojo.com is here to provide guidance to all Pokemon trainers out there. Whether it's the Gameboy Game, N64 or the Trading Card Game, PoJo.com provides all the wisdom you desire.
If you have cool game tips, a killer deck, or breaking news ... send them to us. We'll post it on the site ... and give you all the credit.