Super Trainer Showdown 11-18-00
Pojo's Photo Album
Page One
We attended STS in Jersey. Here is a taste of what we saw. (These are photos that we took, and that some of our fans took. If you have some, send them in and we'll add them to our Photo Album. They'll remain here as long as Pojo.com does ... The good ones will get printed in our magazine). Over 700 people played in the tournament, and over 6300 people showed up to play in the side events and/or just participate in the fun!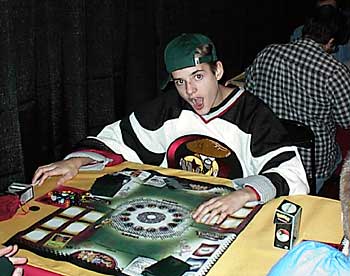 "Holy Moly! I'm 6 and 0 and sitting on Board One!!!"
Jason Klaczynski (Ness) sports the new Pojosama stitched Hockey Jerseys
----------------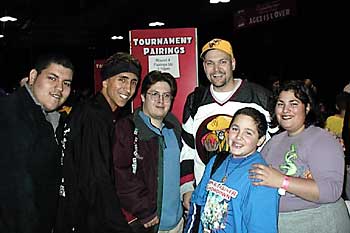 Pojo gets to meet some Pojo Magazine fans from Brooklyn.
I was barely able to smile after Anthony (2nd from Left)
cleaned my clock with his Wiggly Deck.
----------------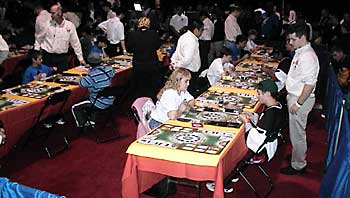 Here's a quick Peak at the Final 8.
-------------------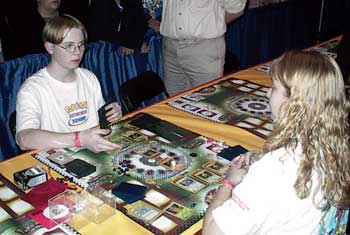 Tom Hanley and Heidi Craig go toe to toe in the finals in the 15 & Over division.
Tom squeaked by to grab the gold medal.
-----------------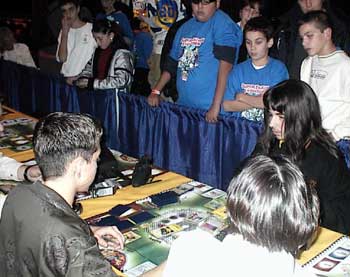 Rudy Rodriguez (left) battling James OBrien in the finals of the
11-14 division. Both playing TR Zap/Wiggly/Chansey style decks.
Rudy claimed first prize.
---------------
(pictures continued ... click link below)
------------------
Or Select a Page Here: