Yu Yu Hakusho Biographies: S
A | B | C | D | E | F | G | H | I | J | K | L | M | N | O | P | Q | R | S | T | U | V | W | X | Y | Z |

Sakamoto
Age: 15
Hair Color: Black
Eye Color: Black
Description: Sakamoto was a human that was possessed by a demon who specializes in bringing about the evil in humans. It doesn't seem that the demon was very creative as the only thing shown that Sakamoto did was kidnap Kuwabara's cat, Eikichi. Wrong of course, but not extremely evil as would be expected from a demon. However, Eikichi was very important to Kuwabara, and Sakamoto took advantage of this by trying to get Kuwabara to steal manga in order to learn the joy of being bad. Sakamoto and his gang are beaten by a newly resurrected Yusuke, and the demon is apprehended as well.


Sakashita
Age: Unknown
Hair Color: Brown
Eye Color: Brown
Description: Tarukane's servant, Sakashita attends to the usual butler-like duties, as well as coordinating Tarukane's Black Black Club meetings and events.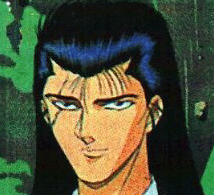 Sakyo
Age: ?
Hair Color: Black
Eye Color: Black
Description: Member of the Black Black Club, Sakyo is an avid gambler who often puts his life on the table as payment for his bets. His dream is to one day open a doorway between the human world and the demon world in order to make life more interesting, as he has grown incredibly bored over the years of being rich. In the Dark Tournament, he is Team Toguro's owner, and in a way a partner with Younger Toguro in the tournament and the outside world.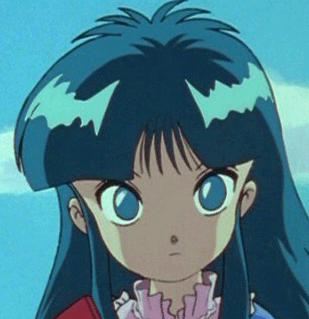 Sayaka
Age: Unknown
Hair Color: Blue
Eye Color: Blue
Description: Sayaka is one of the few characters in Yu Yu Hakusho that has different roles in the anime compared to the manga. In the anime, Sayaka is an inspector from the Spirit World who comes to observe whether or not Yusuke deserves to return to life. However, in the manga, Sayaka is first introduced as an irate ghost that tries to steal the soul of a little boy in order to have someone to play with. After beating the crap out of Yusuke, Yusuke convinces Sayaka not to bother the boy anymore. Due to his caring words, Sayaka falls for Yusuke and does investigate his life, but her investigation focuses on whether or not Keiko is a suitable girlfriend for Yusuke.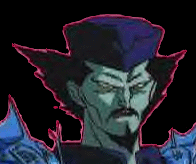 Seiryuu, the Blue Dragon
Age: Unknown
Hair Color: Black
Eye Color: Black
Description: The third of the Holy Beasts of Maze Castle, Seiryu is over 12 feet tall and uses ice as his weapon, lowering the temperature of his environment and firing attacks to freeze his opponents in place.


Sensui Shinobu, The Dark Angel
Age: 26
Hair Color: Black
Eye Color: Black
Alias: Kazuya, Ichiya, 4 unnamed personalities
Description: Former Spirit Detective, Sensui has been fighting and killing demons since the age of 5. As a result, he constantly grew stronger and stronger, until he mastered the use of the Sei Kou Ki (Holy Light Energy) and achieved S class. When witnessing the brutal, and disgusting actions of the Black Black Club, Sensui lost his mind, developing seven personalities. To punish mankind for their evil actions over the centuries, Sensui decided to open a door to Makai with the help of Itsuki, and eventually his five other human fighters, in order to allow any demon to enter the Earth, regardless of class, and kill everyone.


Shigure
Age: Unknown
Hair Color: Black
Eye Color: Black
Description: A demon surgeon, Shigure is responsible for implanting the Jagan into Hiei's head. Further, he has performed many surgeries upon himself as well to increase his own youki. He uses a large, round sword-like weapon, resembling a hoola-hoop, which he can control with his youki. In the Makai Tournament, he fights an amazing battle against Kurama.


Shiori Minamano
Age: Unknown
Hair Color: Black
Eye Color: Black
Description: Kurama's mother, Shiori is kind-hearted and loves her son very much. However, Kurama's true identity is completely unknown to her, to Shiori, Kurama is her only son Shuichi.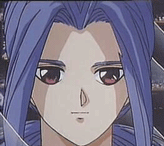 Shishiwakumaru
Age: Unknown
Hair Color: Blue
Eye Color: Red
Description: Member of Team Uraotogi, Shishiwakumaru was obsessed with gaining the acclaim and fame from winning the Dark Tournament. In the semi-finals, he was even more ecstatic to find that his opponent was the legendary Genkai, since the act of defeating her in general would gain him the fame he desired. However, his simple tricks with the Banshee Sword were no match for Genkai's strength and wisdom.


Shizuru Kuwabara
Age: 20s
Hair Color: Brown
Eye Color: Brown
Description: Kuwabara's older sister, Shizuru is tough and extremely connected to the Spirit World. Her powers of perception may even surpass her younger brother's. She has motherly love for Kazuma, and often beats him up to teach him a lesson. Yet despite this, she wants the best for her brother, and tries to protect him in her own way.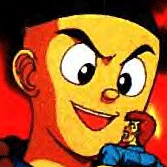 Shorin
Age: Unknown
Hair Color: None, wears a black hat
Eye Color: Black
Alias: Rando
Description: The human disguise Rando used to enter the Genkai Tournament, Shorin possesses unique attacks and a seemingly calm demeanor. However, when fighting against Kuwabara, Shorin shows his true merciless nature.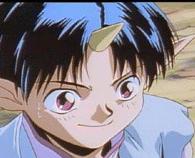 Shura
Age: A Few Months
Hair Color: Black
Eye Color: Red
Description: Yomi's genetically engineered son, Shura was created for the sole purpose of having a strong heir to Yomi's throne. Though young, Shura is remarkably powerful and was able to fight almost evenly against his father in the Makai Tournament.

Sotou Kurou
Age: Unknown
Hair Color: Black
Eye Color: Black
Description: A former Spirit Detective, Kurou has resigned from her position to marry and have a family. After Yusuke defeats Sensui, Genkai sends him to see Kurou in order to receive some guidance and answer questions about Sensui that Yusuke had. In a way, she even looks a little like Sensui, but they do not have any relation. She is calm and understanding, but does not trust Yusuke or his power.


Suzaku
Age: Unknown
Hair Color: Orange with 2 red strands
Eye Color: Orange
Description: Leader of the four Holy Beasts (Saint Beasts), Suzaku is by far the strongest among them. In order to expand the Holy Beasts kingdom and power, Suzaku declares to Koenma that his empire will be allowed into the human realm or he will use his flute to make all humans into demons. When Koenma sends Yusuke and the others to stop Suzaku, Suzaku faces Yusuke after his three other members are killed by Yusuke's team. Suzaku has the ability to manipulate lightning with his reiki and can make duplicates of himself, all of which are just as strong and have the same free will.


Suzuka
Age: Unknown
Hair Color: Yellow
Eye Color: Blue
Alias: Onji
Description: Member of Team Uraotogi, Suzuka is the true form of Onji, the old man who gave the members of Team Uraotogi their special items. Since he originally gave these items to his teammates, his abilities with them are much better. However, he does not possess any real ki techniques, and is defeated rather easily by Genkai.