Yu Yu Hakusho Biographies: M
A | B | C | D | E | F | G | H | I | J | K | L | M | N | O | P | Q | R | S | T | U | V | W | X | Y | Z |

M1, M2. M3
Age: Varied
Hair Color: Varied
Eye Color: Varied
Alias: En, Ryo, Kai (Respectively)
Description: Members of Team Ichigaki, the three M's were originally humans who gave up their freedom to Dr. Ichigaki to heal their dying master. However, they were unaware that the master's illness was caused by Ichigaki himself. Their own inner strength and desire for honor was so strong that they were able to overcome Ichigaki's experiment enough to beg Urameshi to kill them. Further, their strength was enough to remove the humps that were controlling them after Genkai used her incantation to give them that chance.


Majari
Age: Unknown
Hair Color: Blue
Eye Color: Red
Description: One of the Demon Gods of Mekai, Majari's special power is the art of mimic. He can mimic any attack or action taken by his opponents and make it his own. In Movie 2, Majari fought against Kuwabara and learned how to use the Spirit Sword. However, Kuwabara tricked Majari into using all of his youki, leaving Majari helpless at the hands of Kuwabara's amazing physical strength.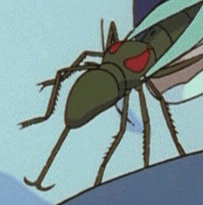 Makai Insects
Age: Varied
Hair Color: N/A
Eye Color: N/A
Description: The Makai insects were sent by Suzaku to Earth by use of the Makai Flute. They possess humans and turn them into mindless zombies who follow the will of Suzaku alone. They can be killed by a special bug spray that Botan uses to get rid of a large amount of them.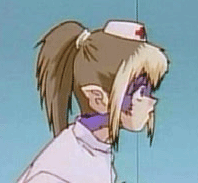 Makai Nurse
Age: Unknown
Hair Color: Brownish
Eye Color: Blue
Description: Though her role is very brief, the Makai Nurse was checking on Yusuke when Yusuke regained consciousness following his fight with Yomi.


Makihara Sadao, The Gourmet
Age: Unknown
Hair Color: Black
Eye Color: Black
Description: Member of Sensui's Seven, Makihara's territory exists within his body. Therefore, in order to use his special power that he gained as a result of the Makai door, he literally has to eat other people. By doing so, he gains all of their powers. Unfortunately for him, he ate Elder Toguro. Though gaining his powers, Makihara eventually lost control of his consciousness as Toguro was too powerful to control.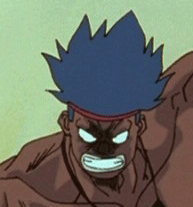 Makintaro
Age: Unknown
Hair Color: Black
Eye Color: Black
Description: First member of the Uraotogi team to face the Urameshi team, Makintaro fought again Hiei. However, Hiei's speed and kenjustu abilities were far superior, and Makintaro is killed rather quickly.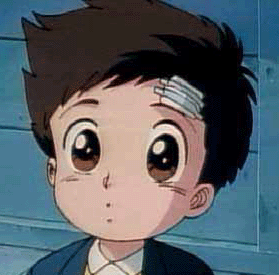 Masaru
Age: 5
Hair Color: Brown
Eye Color: Brown
Description: The little boy that Yusuke saves in the first episode, Masaru was very naive about the dangers of life and death. Due to his inexperience, Masaru played soccer in a dangerous, traffic filled area of the city where he accidentally kicked a soccer ball into the street. When he attempted to retrieve it, a car nearly hit him; saved only by Yusuke knocking the boy out of the way. However, even if Yusuke didn't do this, the boy would have been fine.


Masked Fighter
Age: Unknown
Hair Color: Pink
Eye Color: Brown
Alias: Genkai
Description: The identity that Genkai assumes when entering the Dark Tournament, the Masked Fighter shows incredible strength and mystery. During the Tournament, her face is revealed momentarily to show that she is a beautiful young woman. This puts almost everyone off of her true identity since when she achieves her full power, her body reverts to the point that her potential was highest.


Mekai God A
Age: Unknown
Hair Color: Blond
Eye Color: Black
Description: One of the four gods of Mekai, the Mekai God A is never named, but has the ability to read the mind of his opponents and take a form that would cause them to drop their guard. In Kurama's case, the Mekai God A took the form of Kuronue. After Kurama discovered the ruse, he mercilessly, and very angrily, killed the Mekai God.


Metamira
Age: Unknown
Hair Color: Brown
Eye Color: Brown
Description: A martial arts sensei. Metamira was the teacher of M1, 2, and 3. However, he was stricken by a sudden illness that seemed incurable. When Dr. Ichigaki arrived at their dojo and presented an offer to heal Metamira, three of his students were selected and turned into demons. However, the illness was caused by Dr. Ichigaki in the first place, and to stop his students from committing any more sins, Metamira showed up at the Dark Tournament and brought out the humanity in his former pupils.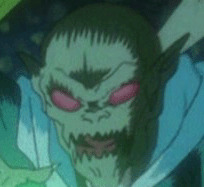 Midorenjya
Age: Unknown
Hair Color: N/A
Eye Color: Red
Description: Midorenjya was a member of Team Gorenjya, facing Team Toguro in the semi-finals. He fought against Karasu bravely, but unsuccessfully. Karasu gracefully and easily blew Midorenjya to pieces with a simple touch.


Misako
Age: Teens
Hair Color: Brown
Eye Color: Brown
Description: Student at Sarayashiki Junior High School, Misako was quietly walking to school with her friend when a gang of students knocked her over chasing after Kuwabara. To protect Kuwabara, and allow him to make it to school and take his exam, Yusuke possessed Misako as she was unconscious. He then used her body to chase down the thugs and beat them senseless. After leaving her body, Misako came to her senses and started screaming in shock of where she was and the situation she found herself in.


Misako's Friend
Age: Teens
Hair Color: Black
Eye Color: Black
Description: A student at Sarayashiki Junior High, Misako's friend and Misako herself were peacefully walking to school when Misako was knocked unconscious by some thugs chasing Kuwabara. When Yusuke possessed Misako and chased down the thugs, Misako's friend could only watch in horror as Misako beat them down.


Mitarai Kiyoshi, The Sea Man
Age: ?
Hair Color: Blond
Eye Color: Blue
Description: Member of Sensui's Seven, Mitarai's special power that he gained from the Makai door is to control water, creating monsters that exist within a different dimension, though still in ours. He faces off against Kuwabara and his friends after they attend a concert, and traps all of them within one of the monsters. As a result of this, Kuwabara regains his abilities to control his ki and creates his ultimate Rei Ken, the Jigen Tou. With it, Kuwabara cuts through the monster and the dimension, even cutting Matarai as well. Due to his injuries, Kuwabara carries Mitarai and his friends to get help, changing Mitarai's view of people and causing him to help Yusuke and the others instead of Sensui.


Miyuki
Age: Unknown
Hair Color: Blue
Eye Color: Red
Description: One of Tarukane and Toguro's three demon guards, Miyuki can use her hair as a weapon, manipulating it into a whip. She is also very self-conscience about being a female fighter, feeling that every male treats her as inferior, and fights her with only partial strength. In the Japanese version however, Miyuki is a cross-dresser who feels that Yusuke shamed her when he grabbed her top and bottom to figure out what gender Miyuki really was.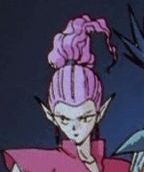 Momorenjya
Age: Unknown
Hair Color: Pink
Eye Color: Yellow
Description: Member of Team Gorenjya, Momorenjya fought Elder Toguro in the Dark Tournament semi-finals. After her initial attack of charging Toguro, Toguro killed her instantly with his finger, shoving it through her head.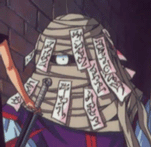 Mukuro
Age: Unknown
Hair Color: Red
Eye Color: Blue
Description: One of the three rulers of Makai, Mukuro covers herself in bandages and spells to hide her true power and true form. When she was younger, she was enslaved by a ruthless, obese demon who abused her severely. As a result, the left side of her body is horribly deformed. After finally escaping him, Mukura still had her chains on her wrists, unable to remove them. Despite all her handicaps, Mukuro eventually reached S level and became a ruler of the demons.


Murugu
Age: Unknown
Hair Color: Green fur with blue hair
Eye Color: Red
Description: Murugu is Suzaku's annoying servant or pet, I'm not really sure which. One thing for sure though, she is the most irritating and annoying characters in the Yu Yu Hakusho series. Her death was way too quick.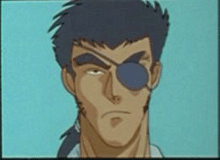 Musashi
Age: Unknown
Hair Color: Black
Eye Color: Black
Description: Competing in Genkai's Tournament, Musashi is a fourth degree black belt in Shinbatto Ryu Kendo and lives his life as a demon slayer. In the first round of the tournament, Musashi fought against Kuwabara, and seemed to have the advantage until Kuwabara realized his power, unleashing his spirit sword for the first time.