Nintendo Switch -
What Accessories Should You Consider Buying?
By Pojo - January 20, 2017
If you've pre-ordered a Nintendo Switch, you may be wondering what accessories you need. We've already looked at Memory Cards and additional Controllers. Today we're going to look at other accessory options.
First off, the Switch comes with everything you need to play right out of the box. You do get: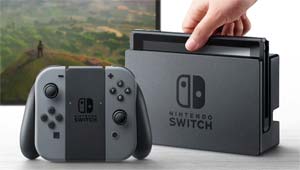 Nintendo Switch Console.
Nintendo Switch Dock.
Joy-Con (L) Gray.
Joy-Con (R) Gray.
Joy-Con Wrist Straps.
Joy-Con Grip.
High Speed HDMI Cable.
NNintendo Switch AC Adapter.
But we think some accessories may come in handy besides Memory Cards and additional Controllers.
The first accessory we like for the Switch is the HORI Compact Playstand. This is a Officially Licensed by Nintendo. You can play your Switch at 3 different angles, secured in place by rubber grips. The stand includes a space at the bottom for the AC charging cable to connect so you can charge while playing. The stand also folds up for easy portability. The option of charging your Switch while playing it on will come in handy at times, especially while traveling. The charging port is situated at the bottom of the Switch, so you won't natively be able to charge and play without a stand accessory like this one. This stand is only $12.99 and solves that problem.
| | |
| --- | --- |
| HORI Compact Playstand for Nintendo Switch | |
----------
If you plan on traveling outside your home with your Switch, you are probably going to want to invest in a Switch Carrying Case. PDP and Hori are both making licensed Carrying Cases.
The HORI Tough Pouch is a basic Carrying Case that holds your Nintendo Switch and a handful of Game Cards. The Soft interior will protect your Switch from scratches and wear.

| | |
| --- | --- |
| The HORI Tough Pouch | |
PDP has a variety of cases up from Pre-Order at Amazon.com. Some are simple cases - themed with Zelda and Mario that are similar to the Hori Case above. But PDP is also offering themed Starter Kits that have a large insert for storing games. The Starter Kits also include a screen protector, earbuds, character-branded Joy-Con Armor Guards and thumb caps, cleaning cloth, and applicator. Here's a look at some of the PDP Switch Protection offerings below
| | |
| --- | --- |
| Link's Tunic Edition Case | |
In addition to these cases, PDP is also offering a Switch Backpack.
----------
For those of you with kids, and you travel by road a lot, you might want to consider a Car Charging Adapter that fits into your cigarette lighter. Do they even call them cigarette lighters anymore? Remember, the Nintendo Switch will use USB-C adapters. This is something new for Nintendo Products.
| | |
| --- | --- |
| Switch Car Charger | |
----------
And here's an extra Nintendo Switch Power AC Adapter. You certainly do not need this whatsoever to play from home. But if you're like me, your Switch AC Adapter is going to be permanently plugged into your home theater. If you are going to take your Switch on the go, you're going to need to charge it somehow. I'm sure there will be 3rd party solutions, but you might want to get the official Nintendo Adapter until reviews come out for 3rd party adapters. This feels overpriced at $29.99 though. Seems like it should be $15.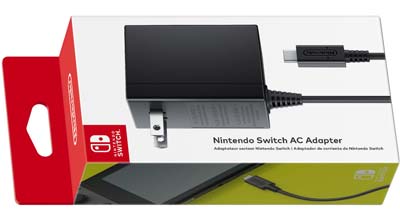 Extra AC Adapter
There will also eventually be a dock to allow you to move your Switch to other televisions. The Dock Set isn't available yet, but it's also going priced at a ridiculous $90! Wowza! No Thank You! I'd wait for 3rd party options to become available.