Harry Potter - Characters
The Bloody Baron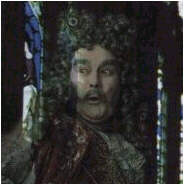 Race: Ghost
Played By: Terrence Baylor
Relations: Unknown
Hogwart's House: Slytherin

The Bloody Baron is the Slytherin House ghost at Hogwart's School of Witchcraft and Wizardry.
The Bloody Baron has blank staring eyes with a gaunt face and blood stained robes. The Baron is by far the most scariest ghost at Hogwart's and eveyone knows it. Even Peeves the poltergeist has respect for him but wouldn't dare cross him.

However, whilst being an evil and scary ghost shrouded in mystery in the books, he seem to be quite the opposite in the Movies.

Thanks to Rick for writing this Bio.