Harry Potter - Characters
Lucius Malfoy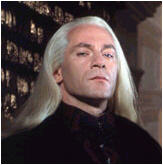 Race: Wizard
Played By: Jason Isaacs
Relations: Nacrissa and Draco Malfoy
Hogwart's House: Slytherin

Lucius Malfoy is the Father of Draco Malfoy and the Husband of Nacrissa Malfoy.
Lucius, like his Father and great Grandfathers, was sorted into Slytherin while being a student at Hogwarts. Whilst being a tall man, he is also evil. He has a staff with a snakes head on the handle and long blonde hair. Lucius comes from a pure blood family of wizards so, the name is well known. Like Voldermort, he despises Mudbloods ( not from a direct bloodline ) and he doesn't attempt to hide it.
He, aswell as a few others, is a Death Eater ( a follower of Voldermort ). Although it is extremely obvious that he's evil and selfish, he donates masses of money to the Ministry of Magic. Therefore, the less "intelligent" wizards at the Ministry think he must be a nice person and cannot be one. He's also obsessed with the Dark Arts and has a secret chamber under his mansion to hide his various illegal dark arts artifacts from the Ministry.

Thanks to Rick for writing this Bio.