Harry Potter - Characters
Katie Bell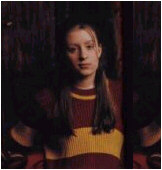 Race: Witch
Played By: Emily Dale
Relations: Unknown
Hogwart's House: Gryffindor

Katie, aswell as 7 other players, plays for the Gryffindor Quidditch Team.
Her position is a Chaser along with Alicia Spinnet and Angelina Johnson. The Chasers handle a ball called "The Quaffle" and have to throw it in one of the opponent's 3 goal hoops.
Scoring in one of the hoops collects the scorer's team 10 points.

Thanks to Rick for writing this Bio.