Harry Potter CCG
A Keen Sense of the Obvious
Starting character – Flitwick
There are many starting characters out there you can choose from. Today we're going to have a look at the benefits of starting with Professor Flitwick.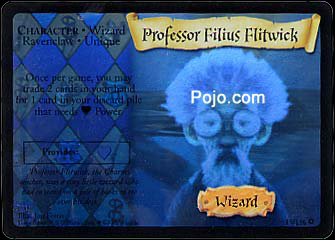 The key to Flitwick is that he provides a "charm lesson" from the beginning of the game. This is of utmost coolness! As your main character you already have one lesson before you even start your turn. This is good for several reasons!
One is the fact that you don't have to include any charm lesson cards in your deck when you create it! You always have that one you need. You can even cast a one casting cost spell like "Wizard Crackers" without even putting a lesson card in play.
You could play a Charms/Creature Deck, and all your lessons can be Care of Magical Creatures. You need ZERO charm lesson cards!
It also helps you tremendously if you've decided to play a Weenie Deck! If you have a Care of Magical Creatures Lesson in your opening hand, you can cast a decent weenie on Turn 1 like Forest Troll or Curious Raven. You are smacking them around right from the get go. Or play a Mrs. Norris on Turn 1 and get a look at their hand. Or play a Delivery Owl on Turn 1 and start drawing two cards on Turn 2. (Warning … Delivery Owls are nice at the beginning of the game, but taking two cards can really suck near the end …. So … as long as you have that great charm lesson from Flitwick, put in a burn spell like Toe Biter and kill it when it's hurting you too much … (yes .. killing your own creatures is acceptable))
One other reason I like Flitwick is that Special Ability – "Once per game, you may trade 2 cards in your hand for 1 card in your discard pile that needs CH power." This can come in very handy at the end of the game. If your opponent is down to 3 cards or so, go get that Stupefy or Magical Mishap in your graveyard and End the Game!
(Okay ... Before you email me saying that Snape does the same thing for Potions ... you are right ... "sort of". The problem with Snape is that the great Potion Spells usually require you to discard Potion Lessons, so you have to include those in your deck. The good Charm Spells don't require any discarding.)
- Pojo