New York Toy Fair REPORT
February, 2001
Harry Potter - Wizards of the Coast
Arrives 3rd Quarter of 2001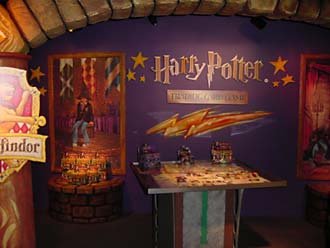 Wizards of the Coast had a small room in the basement of the Hasbro building. I don't know why Hasbro is hiding the good stuff in the basement, and had so much lame stuff upstairs. Oh well ... we found it ... And I'm guessing this will be huge ...
---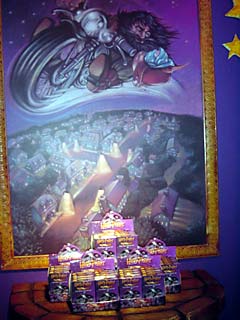 Here is a look at the display of the Starter Decks. The Harry Potter Trading Card game is based on the first nove. (Remember WOTC only has rights to the first book right now).
---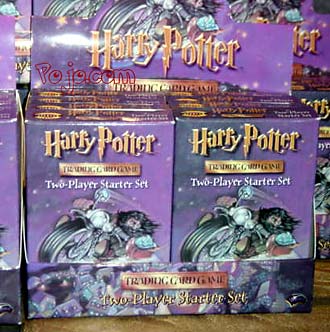 Here is a closer look at the Two Player Starter Decks. You will see that the Harry Potter Potter Formula is trying to follow the successful formula of Pokemon with Starters, Theme Decks, & Boosters.

The starter sets have the basic rules and two 40 card decks, and a playmat.
---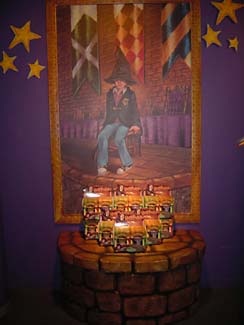 The overall Display for Harry Potter Theme Decks.

Each player plays a Wizard at Hogwarts who can cast spells and use Magical Creatures when playing the game. Each card is fully illustrated with new art, which captures favorite characters, potions and spells, creatures, and situations from the novel.

The first person to make his or her opponent's cards "disappear" wins the game.
---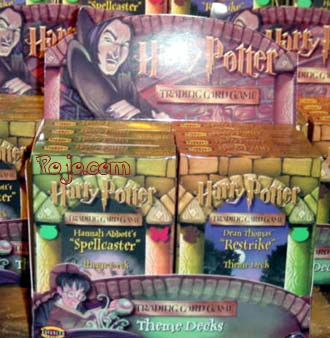 Here's a closer look at the Harry Potter Theme Decks: "Spellcaster" & "Restrike"

Theme Decks will have 61 cards each, damage counters, and one premium Wizard card.
---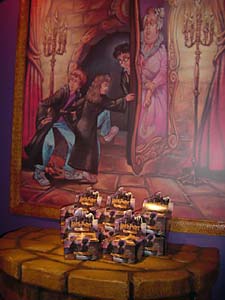 A display for Harry Potter Booster Packs. A total of 118 cards will be in this set. Boosters will have 11 cards each.
---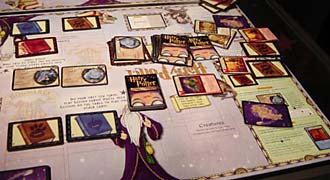 Here is a look at the layout for the Harry Potter Trading card game.
---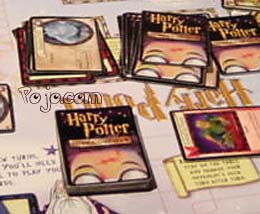 Here is a closer look at the back of the Harry Potter Trading cards. One thing I thought that was different was that the Lightning Bolt on Harry's Forehead is going sideways? This is different from the book cover! WOTC reps stated that the U.S. Book covers are wrong, and that the bolt is supposed to be sideways. .... Interesting...

Thanks to Wizards of the Coast for the great tour!
Back to Page 1 of the Toy Fair Report