New York Toy Fair REPORT
February, 2001
The last several years, Manhattan has hosted the International Toy Fair. I've been lucky enough to attend this event the last two years. All the major Toy Companies have a presence at the Toy Fair, including the ones most interesting to us: Hasbro, Wizards of the Coast, Irwin Toys, etc. I took about 70 pictures at the event with my Digital camera. I've been working with them, and I'll add a few every day as I find time.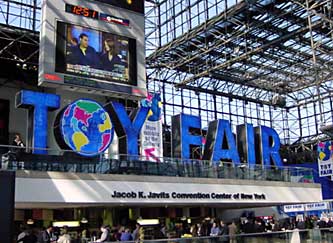 This is the entrance to the home base of the International Toy Fair. It is held annually in New York City at the Javitz Center. The Javitz Center is humongous. And the Fair Takes place on several levels of this huge complex.
---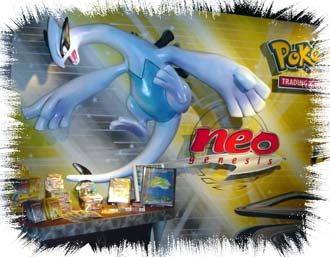 This was WOTC's Neo Display. That model of Lugia was pretty cool lookin'. In case you missed it. Here are the release dates for upcoming Pokemon TCG expansions:
April 2001 - Neo Discovery Expansion - More than 20 new holofoil Pokemon. Debuts of Unown, Darkness Pokemon, and Metal Pokemon.. Two new theme decks as well
June 2001 - Pokemon Tournament Expansion - 151 original Pokemon TCG cards. A combination of new and previously released TCG cards brought together in one set! (Mew is one of the new cards!) Two new theme decks as well.
September 2001 - Pokemon Gift Box - A gift box that debuts the 18 new cards from the Tropical Islands set, previously only released in Japan for the first Pokemon Movie
October 2001 - Neo Revelation Expansion - 3rd Neo release. Makes available all of the remaining Neo Pokemon. Two new Theme decks as well.
Thanks to Jody & Jack of WOTC for the courtesy shown to me during my visit!
---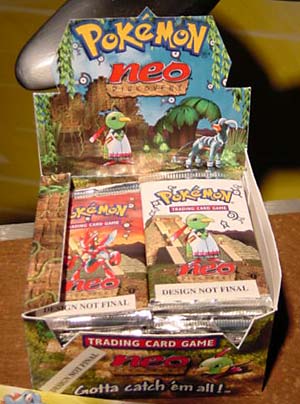 Here is a look at some concept art of the Neo Discovery Booster Boxes, and packages. Remember, the design is not final.
---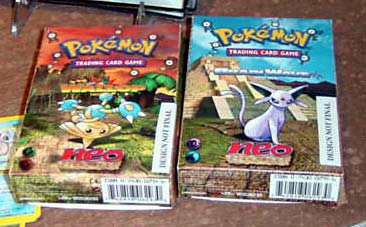 Here is a look at some more concept art for the two new Theme Decks that will come out with Neo Discover. Wallop & Brain Wave. (I think)
---
After I met with the Wizards of the Coast people, the Hasbro reps handcuffed me and took me on a tour of the Pokemon section they had up. It was considerable smaller than last years. The big hub-bub this year was Harry Potter for them. Anyways ... Above is a new Ash toy they are coming out with. Here is the Press Release on it:

"This ten-inch figure of Ash has dozens of electronic sounds, including Ash's actual voice from the TV show. Kids experience the special bond Ash has with his POKéMON. Kids can play with Ash as a traditional large-scale action figure using the toy's articulation and electronic sounds. There is also a trainer mode activated when kids place a THINKCHIP POKéMON figure on the connector – Ash and the figure interact as they do on the show, with kids helping Ash decide how to care for the POKéMON. Finally, there's a battle mode, in which kids turn Ash's hat around, choose a POKéMON to put on the connector, then choose an opponent -- and do battle, with Ash providing commentary and encouragement as a good trainer does."
---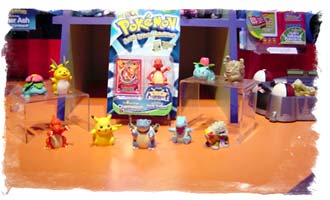 And here's the latest Pokemon for the POKéMON THINKCHIP BATTLE STADIUM. Raichu, Entei, Charmeleon & more are now available.

Other new items include a Large Pichu Plush, and a talking Pokedex for kids.