New York Toy Fair REPORT
February, 2001
Dragon Ball Z - Irwin Toy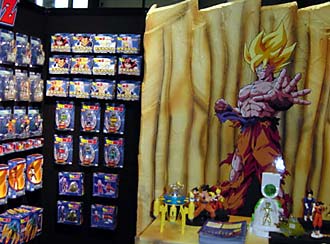 I stopped off at the Irwin Toy section at the Javitz center on Tuesday while at the International Toy Fair in February. Irwin usually has a pretty large display of DBZ, Sailor Moon, Reboot, and other Toys. Above is an image from a portion of the DBZ display.
---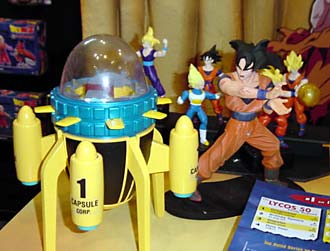 A couple of things in this photo: On the left is the Time Capsule "Real lights and sound time travel action, funky metallic paint, complete with exclusive Trunk 5" articulated figure."

On the right in the forefront is a new 9" Goku "Collector Edition Figures" - "More muscle, more veins, highly detailed figurings. Each includes a stand. SS Vegeta & SS Goku will also be available. These look cool.
---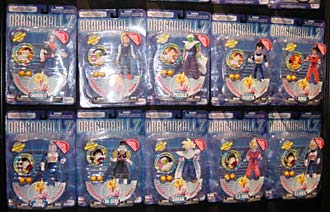 I spoke to Grant Irwin from Irwin Toy about future DBZ figure releases. Being a figure collector, This is what I was interested in. Here's what I learned:

During the course of 2001, Irwin Toy will be releasing Series #4 through Series #8 of their 5 inch action figure line. Here are some details and release dates:
Series #4 – May 2001 – Piccolo w/cape, Android 17, Goku, Android 18, Vegeta (picture above)
Series #5 – July 2001 – Gohan w/cape, SS Vegeta, SS Goku, Teen Trunks, Dr. Gero (picture above)
Series #6 – Sept. 2001 – SS Trunks, Android 16, Android 19, SS Goku, Perfect Cell with Cell Jr.
Series #7 – Nov. 2001 – Great Saiyaman, Dabura, SS Gohan, Majin Boo, Spopovich
Series #8 – Dec. 2001 – Videl, SS Goku, Krillin (Black hair), SS Vegeta, Jr. SS Trunks & Jr. SS Goten (2 pack set).
---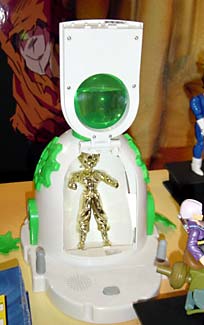 Here's a photo of the Rejuvenation Chamber - "Control pad activates lights, sounds, and rejuvenation. Flashing lights & exploding gears make the chamber come to life. Exclusive Gold SS Goku included"
---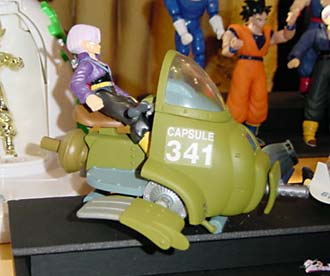 Trunks Sky Bike - comes with an exclusive 5" Trunks action figure. Also coming, Jet Momonga
---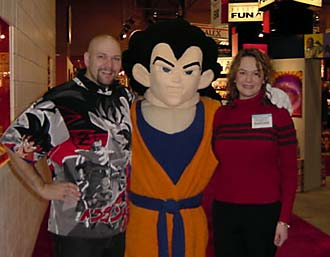 Okay ... so we're just big kids at heart. We couldn't pass up the chance to get our photo taken with Goku before we left. On the right is Sharon from H&S Media (the publisher of all the Pojo's Magazine titles).

The people at Irwin Toy are really cool. Special thanks to Grant Irwin for taking care of us at the show!
Click Here for Page 3 of Pojo's Report of the New York Toy Fair.
Harry Potter TCG is on Page 3