Shaman King Home
Message Board
Pojo's Books

Anime
Character Bios

Episode Guide

Card Game
Card of the Day
CCG Strategies
Tourney Reports
Top 10 Lists

Frequently Asked Questions
Errata

Spoilers
Reincarnation

Deck Builder Friendly Spoiler

Chamber Cards Reincarnation

What is a Shaman?

Contact Us


Magic
Yu-Gi-Oh!
DBZ
Pokemon
Yu Yu Hakusho
NeoPets
HeroClix
Harry Potter
Anime
Vs. System
Megaman
This Space
For Rent



Pojo.com's Shaman King Bios
Hao/Zeke Asakura

He's actually not simply Yoh's twin;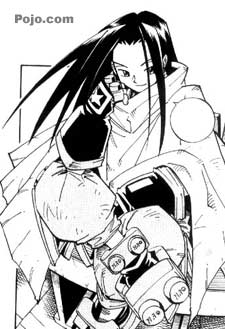 he was born 1000 years ago and back then he was already a mighty shaman and able to control the five elements (Fire, Water, Metal, Earth, Wood). With his powers he wanted to help people, but they in return feared him and called him a monster. That made Hao hate them and when he heard about the shaman fight he took part with the plan to rid the planet earth of all human beings, who were - in his eyes - nothing but parasites.
Obviously he didn't succeed thanks to the Asakura family who killed him when learning of his plans. But this wasn't the end of Hao who managed to be reborn after death with all his powers. This happened 500 years later but this time he was born as a member of the Patsheen, still holding onto his plan of winning the shaman fight which is why he stole the Spirit of Fire from the Patsheen. Again it was a member of the Asakura family who stopped him by klling him once more.
Another 500 years later Hao was finally reborn as Yoh's twin brother and of course the Asakuras attempted to kill him right away but the Spirit of Fire took him away. Even in this life it's still his goal to become Shaman King to fullfill his old goals, but on contrary to his dark ambitions he seems relaxed and almost friendly most of the time. He looks exactly like Yoh except for his longer hair. - Jeazard

Copyrightę 1998-2005 pojo.com
This site is not sponsored, endorsed, or otherwise affiliated with any of the companies or products featured on this site. This is not an Official Site.