Shaman King Frequently Asked Questions
What is a Shaman?
A Shaman is a person who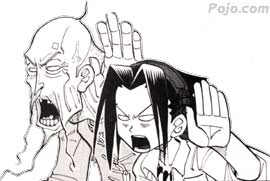 communicates (or is possessed by) Gods, Spirits and the Dead using magic to cure illness, foretell the future, and influence events.
Shamans act as Medicine Men, Guides, or Mediums forming links between the physical and spiritual worlds.
In ancient times, they were the centers of society, and still are in some cultures.
What is a Shaman King?
The Shaman King is the only person who can communicate with God. He must have the power of all Shamans.