Hi, Pojo,
Someone at Tomy might want to update their statement, LOL:
"-----Original Message-----
From: CS-Dan *snip*
Sent: Thursday, September 7, 2017 2:23 PM
To: *snip*Loretta *snip*
Subject: RE: Message from Loretta *snip* via TOMY.com
Hi Loretta,
Thank you for your email.
Unfortunately, at this time we are not making the "Komala vs. Pichu" figures.
Sorry,Dan"
As you can see from my photo, nothing could be further from the truth! And happily so, as we needed another Komala mascot to herald the month of Save the Koala (please visit www.savethekoala.com for details about how you can help the recently red-listed as vulnerable to extinction, iconic Australian marsupial which inspired Pokémon Komala!). I found my recent figures at Target but the Lycanroc was purchased at Meijer; Target, Wal-Mart and Meijer have all been receiving the newest waves of Tomy Sun Moon figures with the recent seasonal shelf resets.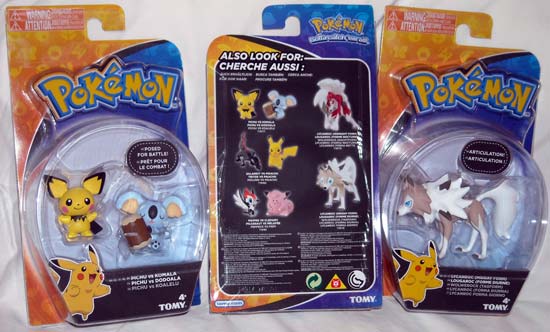 I want to give a shout out to punk rockers Bad Mary; they told me via social media they were sending their bassist Mike a copy of Pojo's Unofficial Ultimate Pokémon because he's a huge Pokémon fan! I stumbled across one of his Pokémon blogs when I was searching for the particular Tweet: http://popchomp.com/greatest-games-ever-pokemon-red-blue-and-yellow/?platform=hootsuite
Komala would wish you a happy Save the Koala month but he's… um… zzzzZZZZ.*
Pichu!
Loretta
*If you play Pokémon Shuffle, you'll recognize "Nap Time"!