Where to even start?! Tons of new Pokémon items are hitting the shelves as all the major retailers reset for the upcoming season, so I'll list as much as I can remember! Grab a box of Tohato Pikachu-shaped chocolate-corn snacks at your local Japanese grocer (Komala is pictured on the reusable Poké Ball motif box along with Pikachu and other Sun-Moon Pokémon, plus there's a sticker inside) and read up:
<![if !supportLists]> · <![endif]>GameStop: Pokémon MegaConstrux building sets (Ionix marketed similar sets several years ago); Pokémon Center plush like Alolan Raichu (pictured); Pokémon Tomy plush like Mimikyu (pictured); Burning Shadows TCG items (just released August 4); Pokémon Tomy multi-figure starter boxed sets .
<![if !supportLists]> · <![endif]>Toys 'R' Us: Pokémon MegaConstrux building sets; Pokémon Tomy shoulder plush in carry pouches (Pikachu, Eevee, Piplup so far), mini figure play sets (marketed toward girls, pictured in prior report, suction cups on figure bottoms attach to play houses or bases), cosplay ears; Burning Shadows TCG items (August 4 promotion, buy 1 get one 40% off; TRU was the only location out of the retailers I visited that had the Komala promo blister pack pictured—but be warned, TRU's TCG pricing has generally been higher that big box stores' pricing, however, the promo pricing brought my grand total down to a comparable level).
<![if !supportLists]> · <![endif]>Target: (shelf reset in progress, mostly seeing some new Tomy Poké Balls for tossing and puzzles/games); Burning Shadows TCG items.
<![if !supportLists]> · <![endif]> Meijer: Viz "The Art of Pokémon Adventures" by Satoshi Yamamoto—for an incredible discount price of $18.74 ($24.99 list); (shelf reset in progress; TCG items expected) Pokémon Tomy Eevee-lution figure pack including Pikachu, Eevee, Flareon, Jolteon and Vaporeon; Pokémon MegaConstrux building sets.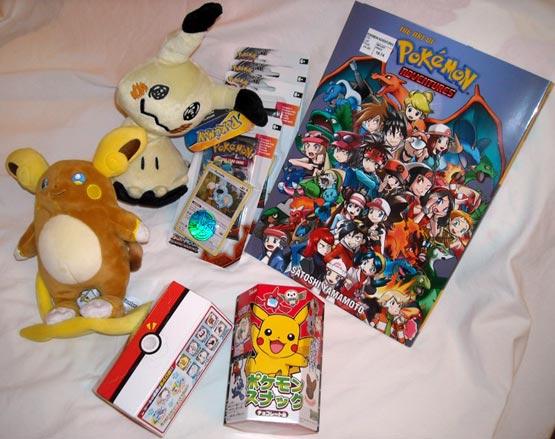 I had the opportunity to speak with a Meijer manager about their incredible shelf reset in the midst of store remodeling; Meijer is committed to providing fans with the hottest merchandise and the Pokémon Adventures art book was an absolutely amazing find at that price (they had 4 copies on the shelf, not just 1—on top of that, Meijer stocks Pojo books including Pojo's Ultimate Pokémon in which I have my 4 page toy collecting article!). Also, the Eevee-lution figure pack isn't yet out at any other retailer I checked locally, so compared to the major retailers I visited, they got the jump on new Tomy figures (Wal-Mart hasn't even started shelf reset in my area; keep in mind that in my city of ~1,000,000 metro area pop, most of these chains have up to a dozen or so shops per chain and I spent my staycation driving to a large number per chain, including all 3 TRUs in my area). Meijer also had the new My Little Pony Movie Hasbro merchandise along with a re-introduction for their chain of Epoch's (formerly Tomy's license in the 1980's under the international "Sylvanian Families" logo) Calico Critters (which I mention because I used my Tomy Pokémon mini figures as accents for my Critters' home!).
More good news for Pokémon shoppers, I spoke with the owner of a Learning Express locally and she said that their chain (which also carries the wonderfully detailed and great quality Calico Critters) had the Pokémon Tomy mini figure sets on order, so they will be carrying this line along with other select Pokémon items.
Unofficial Team Komala did take time out from shopping, visiting Columbus Zoo—well, mostly the koala area!—four times during staycation week. I was lucky enough to stumble across an exceptionally well-informed volunteer who relayed information gained during volunteer training about the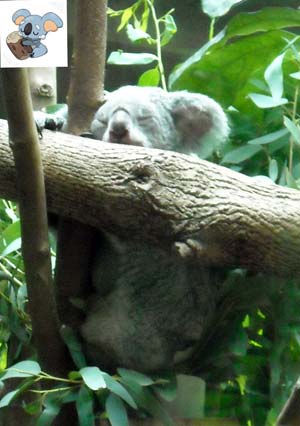 new koalas! As the Zoo's social media indicated, Columbus Zoo does have two new koalas, Katy and Thoar obtained via the San Diego Zoo for the AZA Species Survival Plan. I was told that keepers from the San Diego Zoo trained keepers at Columbus Zoo in their protocols to ensure the new koalas would make a successful transition into their new habitat. Obviously quarantine, medical checks, training, etc., take time, so the new koalas were not yet outside in the remodeled outdoor habitat area; the outdoor habitat looked wonderful with lots of climbing logs/branches added along with rustic looking containers which will hold the water into which the feed eucalyptus branches will be placed when the koalas are in that area. I think we've already mentioned that koalas are the most expensive zoo animals to feed because that eucalyptus—poisonous, taking a long time to digest, and the only thing koalas will eat—has to be flown in from southwestern USA several times per week (although the zoo does have a limited supply grown in their greenhouse). What can you do to support the survival of the recently red-listed koala? Support your local participating AZA Species Survival Plan Zoo such as Columbus Zoo or San Diego Zoo via membership or adoption. Support international organizations advocating for conservation such as World Wildlife Federation or my favorite, The Australian Koala Foundation. Save the Koala Month 2017 is September, visit www.savethekoala.com to find out all about koalas and visit their online gift shop (shipping is usually free during Save the Koala month when you order $50+AU), plant some trees or adopt a koala.
I'll leave you with a few pictures from Columbus Zoo (unpaid blog, photos not for commercial use). The plaque, located in the Zoo's Australasia area, where I'm comparing my hand to the koala paw casts is dedicated to the legendary Steve Irwin. You can see the front paws of the koala have essentially two thumbs which make them great climbers. On the rear paws, after the thumb, the first two digits are fused together so the claws can be used for grooming! In the habitat, Wruwallin was actually awake near closing time, a rare sight to see her moving! Normally, she can be found doing her best Komala imitation, just look at her clutching that climbing log! Komala used Nap Time!
zzzZZZZ
Loretta