Hi, Pojo,
Where's Charmander? That's probably what Pokémon fans will ask when they browse Kohl's new selection of…that's right…sterling silver Pokémon charms! It wasn't too hard for Team Buneary to find sterling silver rabbit charms…and not impossible for Team Komala to find a sterling silver koala charm…however…finding an official sterling silver Pokémon charm in the US was darn near impossible until my find at Kohl's around Halloween. On the Kohl's website, I'm only spotting the Poké Ball and Bulbasaur charms I saw in-store, but not the Pikachu I actually purchased, though I've enclosed a photo so you can see the official sterling silver charm on a bracelet. Here's the Kohl's web search link: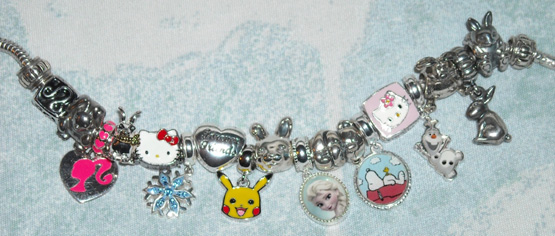 http://www.kohls.com/search.jsp?search=pokemon+charm&submit-search=web-recentsearch
I would recommend fans call first before driving to a store (your only option until the website restocks). I managed to hit a 65% off sale with a 20% off coupon and $5 reward certificate, so I got a good deal on the pricing; I think charm bracelet fans know exactly how pricey sterling silver charms can get when you're dealing with name brands *cough* and trademarked characters. Finally, the charm bracelet is complete with the addition of Pikachu, I can't help but having felt like something big was missing until now. Hopefully the other starters will show up, Squirtle is missing here, too, but one can't be too disappointed with the Bulbasaur, I recall it fondly from "Bulbasaur, The Ambassador" anime episode, where it mediated a Pokémon dispute. Perhaps today is a good day to suggest Bulbasaur for President? PIKA!
Happy Holiday Shopping—and don't forget you can get some Unofficial Team Komala approved swag via www.savethekoala.com while helping endangered wild cousins of lovable, sleepy Komala! Team Buneary wants to remind holiday shoppers that plush make better holiday gifts than pets, especially around stressful holidays; visit www.rabbit.org to learn more about Buneary's domestic cousins and what it takes to really properly care for a houserabbit if you want to adopt after the holiday chaos is over.
Loretta