Hi, Pojo,
Not having internet at home currently caused me to miss seeing the e-mail from Build-a-Bear right before Labor Day about the new Eevee plush, though apparently it may not have helped having internet as I found out Eevee pretty much sold out the day it hit store shelves. Anyhow, I signed up for a notification about restock and as you can see by the photo, Unofficial Team Komala has welcomed a BaB Eevee to the fold! I need to give a big shout out to Build-a-Bear Easton because after leaving and battling traffic for an hour, I got home to discover the exclusive Eevee BaB trading card had inadvertently not been included in my bag; a quick call to Build-a-Bear and the evening manager made arrangements to ensure I would get my trading card, which is now in a frame along with some Pojo memorabilia. Thank you Build-a-Bear for making it OK, PIKA!
<![if !vml]>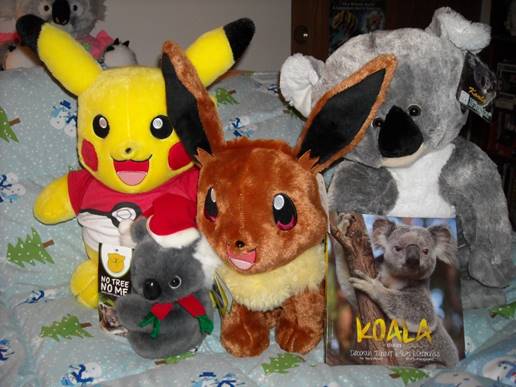 <![endif]>
My Australian Koala Foundation order arrived recently, you can see I've gotten CEO Deborah Tabart's new book, "Koala Stories" and a Santa Pippy koala plush (along with a Buddha of the Bush hoodie and a finger puppet, not pictured) for Christmas. This is the second year I've made a Save the Koala Month order and I have been very pleased with the wonderful merchandise available via their website www.savethekoala.com , happy to know my purchases help endangered koalas. During a recent vacation, I had the amazing privilege to meet some real koalas at a US wildlife conservation/education facility. I mentioned to the koala keeper that Unofficial Team Komala was trying to raise conservation awareness via the upcoming introduction of Pokémon Komala and told the keeper I had heard that the zoo nearest my city in fact had recently held a Pokémon Go event with the same intent—wildlife conservation awareness. Having read a natural history book about koalas not long ago, I couldn't really think of any questions to ask the keeper; mostly we discussed the work the AKF has been doing and how important it is for everyone to BELLOW to the Australian government to pass a Koala Protection Act. I can't really put into words what it felt like to have had the privilege of meeting the koala ambassadors, it was quite overwhelming to have had such an opportunity, but on the lighter side, I can vouch their fur does feel like wool and they are truly beautiful and amazing creatures. I could also feel the bond and love the keeper had for the marsupials. You can read all about koalas at www.savethekoala.com and help lend your voice via The Koala Army. I can't wait to get my Pokémon Moon game (and a Komala!) later this year, but we can't forget the real-life animals that inspired the Pokémon we love so very much!
Team Komala BELLOW! PIKA!
Loretta
<![if !vml]>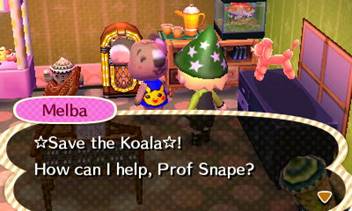 <![endif]>
<![if !vml]>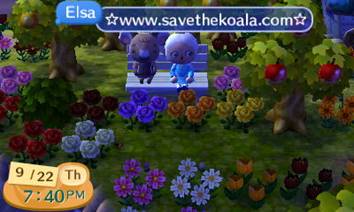 <![endif]>