After twenty years of Pokémon, with a good number of Tweets to Pokémon over the past year, we finally are getting a koala Pokémon, Komala/Nekkoala! I pre-ordered Pokémon Moon at Target this past weekend; Target is giving a $5 gift card to customers who pre-order one of the upcoming games when they pick up their game order upon release later this year. While we eagerly await the game releases, there are plenty of important things Unofficial Team Komala trainers can do to support the iconic, endangered Australian marsupial that inspired what looks to be an absolutely adorable, cuddly new Pokémon (hint, hint, Pokémon Center, my credit card is ready anytime y'all want to offer up a plush, preferably in time for the holidays!).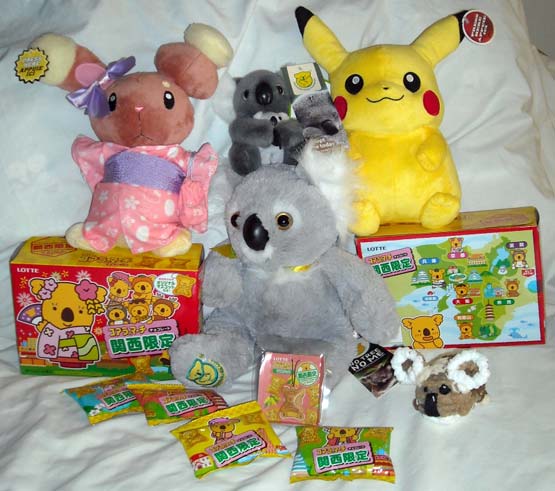 September is Save The Koala Month 2016! Unofficial Team Komala's best attack against koala habitat loss is "BELLOW!"; you can find out how to target your attack via The Australian Koala Foundation's website at www.savethekoala.com . There you will find template letters and addresses of Australian government officials so you can support the passage of a Koala Protection Act, similar to America's Bald Eagle Act, that will help preserve the remaining koala population in Australia, which is currently suffering greatly from habitat loss, stress induced disease, auto accidents, domestic animal attacks, etc. Can you imagine an Australia without koalas? Your voice is needed; join The Koala Army and "BELLOW!" (Younger fans wondering what inspires Unofficial Team Komala's "BELLOW!" attack are encouraged to YouTube the male koala's mating call; you may be surprised what you hear!)
As you can see from my photo, Kansai vacationing couple Pikachu and Buneary has stumbled across some super-cute koala merchandise! The best part?!—all this cool swag supports The Australian Koala Foundation's work to protect the koala! Center stage is Lola koala with a stylish AKF ribbon around her neck and the AKF's logo embroidered on her hind paw. Her tag has the AKF's catchphrase, "No Tree No Me." Above her we have Chewy koala and her tiny joey. The Australian Koala Foundation's website has a gift shop with all kinds of koala-themed items, including tons of great clothing; all purchases support the AKF's mission and they ship worldwide (younger fans, please remember to get your parent's permission before shopping online and that overseas shipping costs may be high, along with the fact that prices are noted in Australian dollars if your parents do decide to purchase). See those Kansai edition boxes of Lotte Koala's March cookies? Purchase of Lotte Koala's March products supports The Australian Koala Foundation, you'll find the logo on the boxes; Lotte products are available in the Asian section of some grocers and often at Asian supermarkets. These special edition Kansai boxes include a Koala's March dangling cookie mascot; you can see mine near Lola's paw. There are 10 different random mascots available in these boxes; mine appears to be holding a cup of tea (preferably eucalyptus for March's sake!).
I love Tsum Tsums, but the closest I could get to a koala was Disney's Stitch. I crocheted the little koala in the photo, inspired by The Australian Koala Foundation's Koala Army mascot, Urban. It took around 6+ hours to create the little guy from scratch and I'm not very experienced with yarn, but his camouflage look is in keeping with the Army theme. Unofficial Team Komala should spend the time waiting for Pokémon Sun/Moon learning more about the real life animals that inspired Komala and supporting the mission to protect them for future generations. I'm really looking forward to Komala's debut, but in the meantime…
BELLOW!!!
Loretta