Hi Pojo and pals,
I think my credit card is going to have a meltdown, the amount of new toy releases over the last few weeks has been absolutely staggering and I can truly say I am quite pleased with many new items and toy lines (hey, ladies, how about those Kawaii Crush dolls?!) I've seen, despite the Pokémon pickin's being semi-slim at the moment.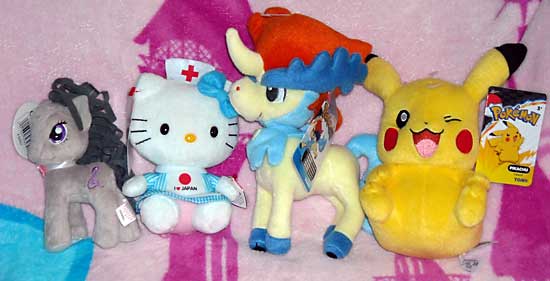 Target has finally gotten a new wave of Pokémon plush and as shown on Pojo sponsor website Toywiz.com, this wave includes a winking Pikachu, Keldeo and a shell-waving, smiling Oshawott, $10.99 each. Obviously, I swung past the Pony aisle while at Target and discovered the newly released Funrise 6" Octavia; Wal-Mart had gotten their exclusive 10" size some weeks prior. I'd never cared much for the original My Little Pony designs I'd seen during my college years back in the 1980's, but the new generation has a much more anime look and the episodes are great because of the mix-in of adult level pop culture references/humor. Speaking of anime and love for all things Japanese, I also found the Ty Hello Kitty Red Cross tsunami/earthquake-aid Beanie Baby at the close-out store fiVe BELoW.
Scarily, I can't seem to focus on the Pokémon X/Y release since I'm totally obsessed with my Animal Crossing New Leaf game, in which I've added lots of Pikachu, Fluttershy and Snape custom designs. I will, however, be stalking the toy shelves for plush and other new toys, really interested to see how Tomy will handle the new starters, especially since Toywiz.com notes large size plush are supposed to be released.
Happy shopping! Pi-Pikachu! *wink*
Loretta