Last November, I found a Tomy Eevee plush at Barnes & Noble, long before other local stores had received the Eevee-Emolga-Mew wave. In July, Wal-Mart's TCG aisle produced a Sylveon and Dedenne. I ran across pictures of the Eevee Evolution plush on Pojo sponsor Toywiz.com's website and my jaw kind of dropped, we never really had the entire set marketed in the U.S. outside of Pokémon Center, right-? Anyhow, a couple of weeks ago, local Hot Topic employees had mentioned they had received a box of Tomy Eeveelution plush--and they'd sold out immediately. My jaw sort of dropped again, but not in a good way that time. Today, I was heading to a second Barnes & Noble stop (we have multiples of every major chain in my fairly large city) to check for a Tomy Bunnelby-Marrill figure pack (no luck, but Barnes & Noble has the newest wave of 2 packs in short stock along with the newest USAopoly Pokémon Monopoly game!) and decided to poke my head into the Hot Topic at that particular mall. The nice lady asked what I was searching for--in fact, I was looking for an Aurora plush My Little Pony Luna, but also mentioned the Eeveelutions. To my extreme shock and surprise, Jake, who I've seen working at several of the local stores, zips up to me after hearing my requests. With. A. Freshly. Opened. Box. Of. EEVEELUTIONS!!! I nearly fainted. I thanked him profusely and selected a Glaceon, Flareon and Umbreon and dug into my pocket for my lowest interest platinum card 'cause you know this is going to cost. Jake was nice enough to offer me the display box since he was just going to place the other plush on the racks and it would be discarded. Thank you, thank you Hot Topic and Jake! These are adorable and now I can use the box to hold my little set of 5. Of course the others are out there somewhere and I think I'll end my report with a photo and suggestions on where to find Pokémon plush but I must stress: I HAVE ONLY PERSONALLY SEEN THE EEVEELUTIONS AT HOT TOPIC SO FAR.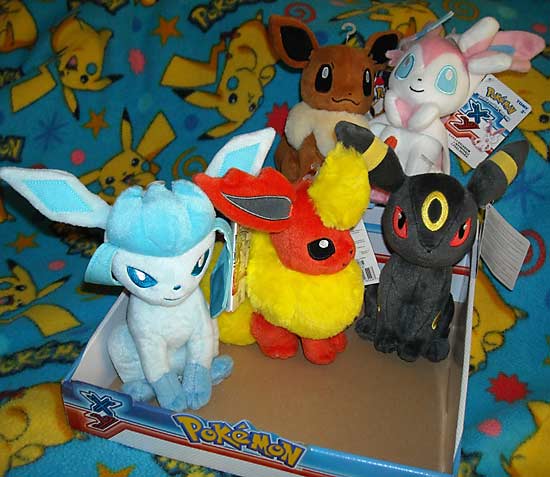 Hot Topic has the Eeveelution plush online at the moment http://search.hottopic.com/search#w=xy%20plush , didn't see that last week, not sure how long the supplies will last, as these are selling hot.
Places to shop for Tomy Pokémon plush:
Wal-Mart (TCG aisle)
Target (TCG aisle AND TCG endcaps in toy area)
Meijer (toy aisle--although I wonder if they will follow suit and turn it over to the TCG distributor soon)
Hot Topic (Eeveelution plush has been stocked, but items are not consistently carried, call first)
Barnes & Noble (gaming/pop culture islands and/or children's toy areas)
Toys 'R' Us (toy aisles)
Toywiz.com
Good luck on your Eeveelution quest! Pika!
Loretta

------
Addendum:
I was just innocently grocery shopping at Meijer and...look what hopped into my cart! Meijer has the latest wave of Tomy Pokémon plush! Bunnelby, Litleo, Tyrunt, Pikachu, Pancham and Amaura are in this wave. Looks like fans will have to hit up multiple stores to get all the waves, as some stores are carrying certain plush while others have an entirely different selection. Pikachu better wise up or Bunnelby might hop in and steal Buneary's heart! LOL!
You can see all the plush goodies available currently on Pojo sponsor Toywiz.com's site here http://www.toywiz.com/pokeplushtom.html
L.