Hi, Pojo,

It all started out innocently enough yesterday, I went to Barnes & Noble to pick up a My Little Pony Monopoly game which I'm saving for Christmas and obviously I had planned to hit the Toys 'R' Us across the street from the mall...but...

I knew the Pokémon 3DS XL for X/Y was releasing yesterday but I didn't...expect...

THIS.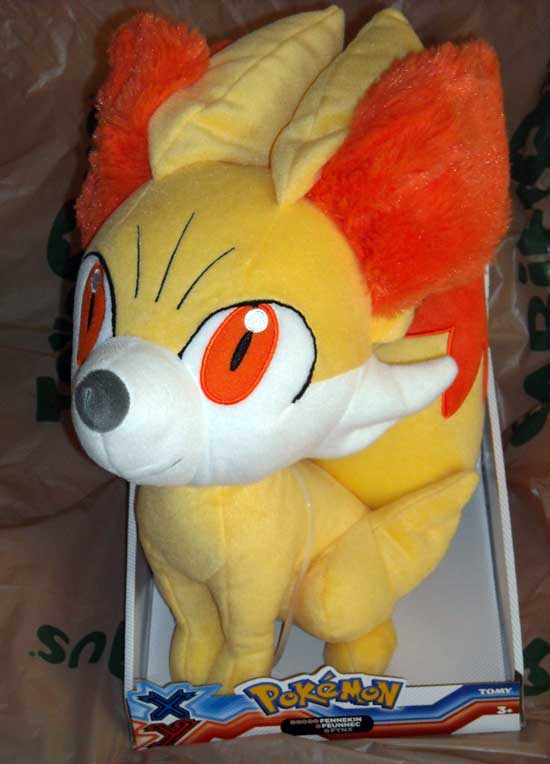 Tomy Pokémon X/Y merchandise is beginning to flood the shelves of TRU! Silly me, I had no idea the new merchandise would be out already, I figured like in the past they'd set the stuff out the same weekend as the game release which is about 2 weeks off (I could've sworn Toywiz had October shipment dates on their site, too). Anyhow, there are new plush toys--I spotted Pikachu, Bulbasaur and Chikorita in the smaller size and Pikachu and Fennekin in the BIG size. Just look at those fuzzy soft ears on Fennekin! I'm thinking of naming mine "Gongitsune" (anime fans might catch the reference). The two Toys 'R' Us stores I visited yesterday each received one BIG Pika and one Fennekin so I feel quite lucky to have caught mine. TRU also had new X/Y figures, a series enclosed in display cases, evolution series in display cases and 2 packs without cases that included the starters paired with an older generation Pokémon. There was a battle arena play set, too. A visit to Pojo sponsor Toywiz.com should give you an idea of what is coming or already available, although I don't think I saw pictures online yet. Alas, I don't usually carry a camera into the stores or have a fancy cellphone with one; but really, the most jaw-dropping item was the big Fennekin, so here's your picture, LOL.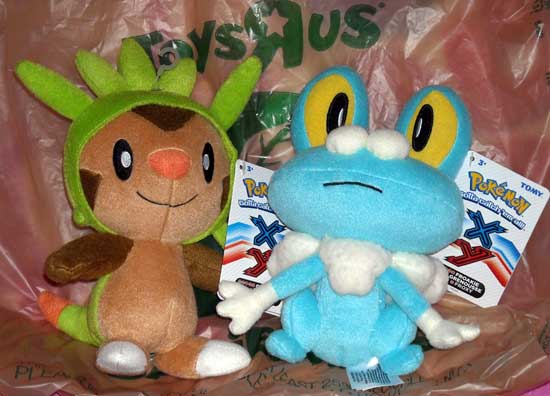 Meijer received their shipment of the Tomy Keldeo/winking Pikachu/shell-waving Oshawott plush, BTW; Target seems to be restocking in stores where they are carrying Pokémon toys. I did not spot X/Y merchandise anywhere other than TRU just yet but I'll keep my eyes open.

Now pardon me while I give "Gon" a big snuggle. (For the curious, here's a brief Wiki article: http://en.wikipedia.org/wiki/Gon,_the_Little_Fox )

Loretta